Page 524 is a list of flights that do not need translating
02_volume_II_o_apenso_VIII_524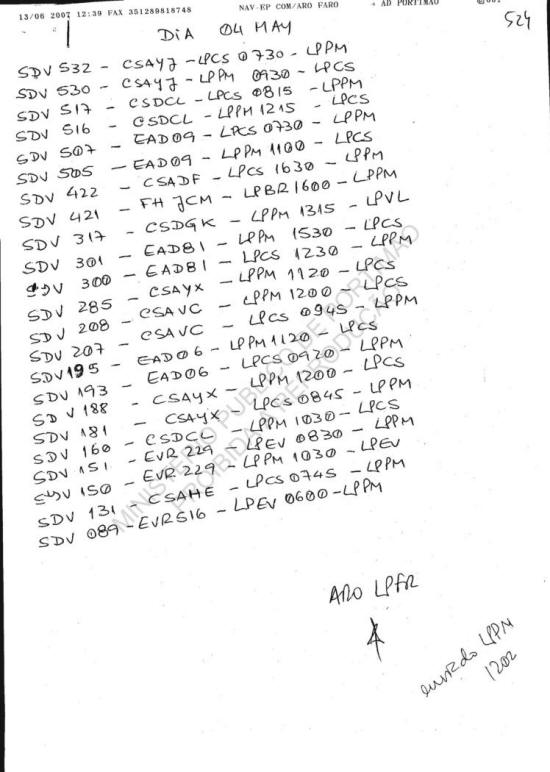 Pages 525-526 missing
02_volume_II_o_apenso_VIII_525
MISSING PAGE
02_volume_II_o_apenso_VIII_526
MISSING PAGE
Page 527
you may find this report interesting:
http://www.peter2000.co.uk/aviation/granada/index.html
======================
As for the flight plan page, not everything fits the AFPEx guide-screens exactly, nor CAP694, but that is probably because it is a post-filing acknowledgement report as opposed to an actual on-line filing.

FF LPFRZPZX
(Priority=FF=standard; Address=Faro)
281450 LFPYZMFP
(file-day-time=DDHHMM; originator=Bretigny-sur-Onge)
-TITLE ACK -MSGTYP IFPL -FILTIM 281449 -ORIGINDT 0704281450
(Acknowledgement of flight plan; filed on day-time: DDHHMM; origin date-time: YYMMDDHHMM)
-BEGIN ADDR
-FAC LPFRZPZX (Faro)
-END ADDR
-EXTADDR -NUM 001
(I think this means there is only one plan)
-IFPLID BB73451562
(flightplan ID)
-MSGTXT (FPL-FHJCM-ZG
(MessageText: type=flightplan - planeid=FHJCM - flight type=G (general)
-BE9L/L-SY/S
(plane type=BE9L/wake turbulence=L (light)
(-COM/NAV/APP equipt=SY i.e. Std VHF RTF,ADF,VOR,ILS+mandatory radio w/8.33kHz spacing
(/SSR=S Transponder ModeS+pressure altitude)
-LPPM1700
(departfrom=LPPM (Portimao);time=1700)
-N0220VFR SOTEX/N0220F160 IFR W7 FTM DCT
(cruise speed=0220knots;cruise level=VFR; Over SOTEX waypoint: cruise speed=0220knots;altitude=F160;
(route: change to IFR [mandatory in EU airspace]; ATS route W7 FTM;
-LPCO0100 LPPR
(Destination=LPCO (Coimbra); EET=0100 (expected flight time one hour); Alternate=LPPR (Porto))
-EET/SOTEX0015 OPR/PVT DOF/070428 ORGN/LPFRZPZX
(expected to cross SOTEX waypoint after 15 minutes; Operator/Private; Date of flight/2007-04-28; Origin/Faro)

NOTES:
The plan was addressed to Faro by an operator in France about a flight due to leave Portimao 2 hours later on 28 April.
Faro acknowledged the plan in which the plane would fly to a waypoint called SOTEX, follow a pre-defined route known as W7 over a waypoint called MAGUM, then on to a waypoint called FTM after which it will exit the flight channel to land in Coimbra.

According to this document ( http://www.ivaopt.org/realops/traffic ) the SOTEX/FTM is a southbound flight channel; I would have thought that he should have gone up via Troia/MTL.

ATS routes: http://www.nav.pt/ais/aips/LP_Sup_A_2006_001_en_P1.pdf
The only waypoint on W7 is MAGUM
http://www.fallingrain.com/waypoint/PO/MAGUM.html

Some airport data
http://www.fallingrain.com/icao/LPCO.html
http://www.fallingrain.com/icao/LPPM.html

How it got from Coimbra to Braga would be the subject of one or more other flight plans not on the DVD, and irrelevant to the case. We only know about this plane because it flew to Portimao on 3 or 4 May - and that is really the only 'fact' that we know about it. The above plan was filed but that doesn't mean that the flight actually happened.
02_volume_II_o_apenso_VIII_527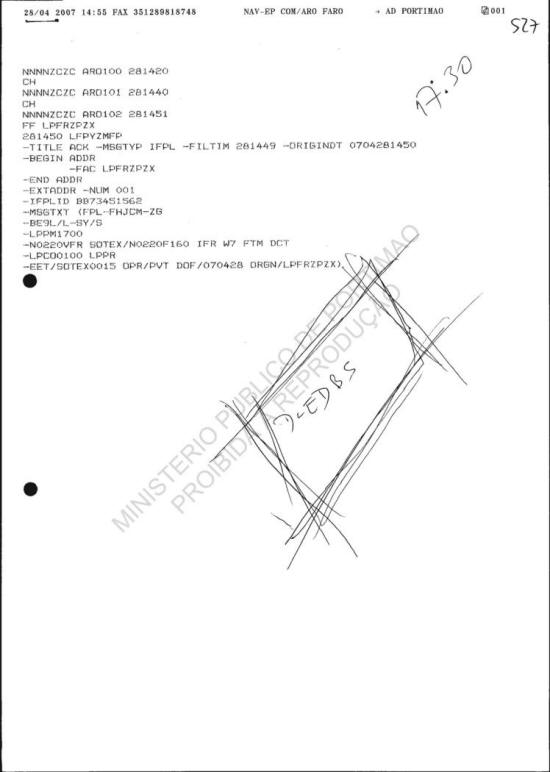 Pages 528 to 533 are additional flight schedules that do not need translation
02_volume_II_o_apenso_VIII_528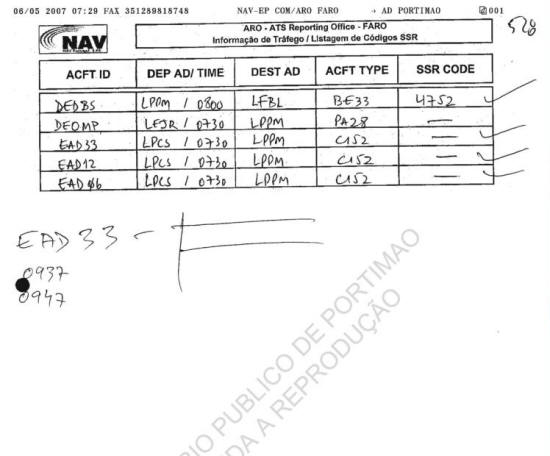 02_volume_II_o_apenso_VIII_529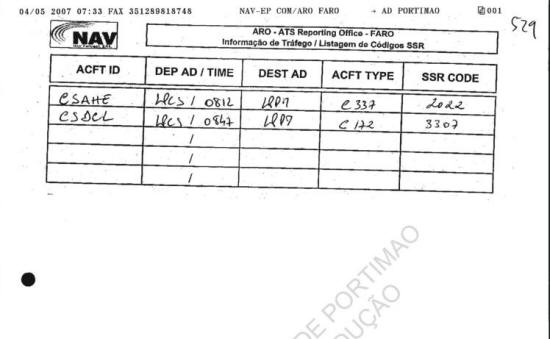 02_volume_II_o_apenso_VIII_530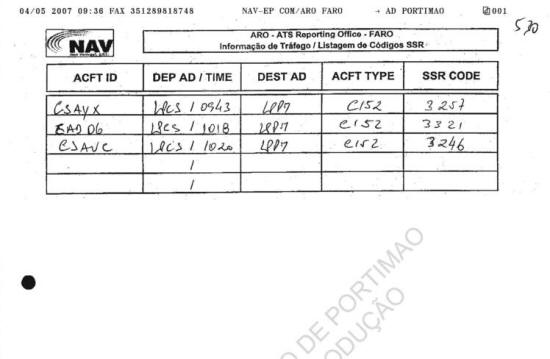 02_volume_II_o_apenso_VIII_531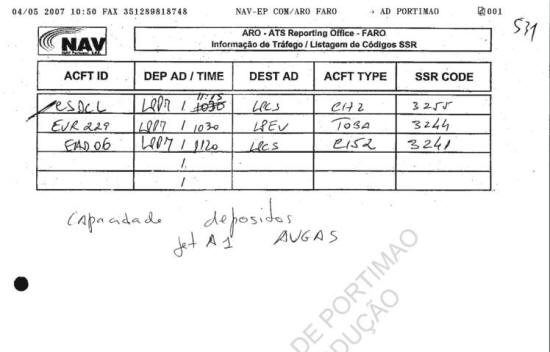 02_volume_II_o_apenso_VIII_532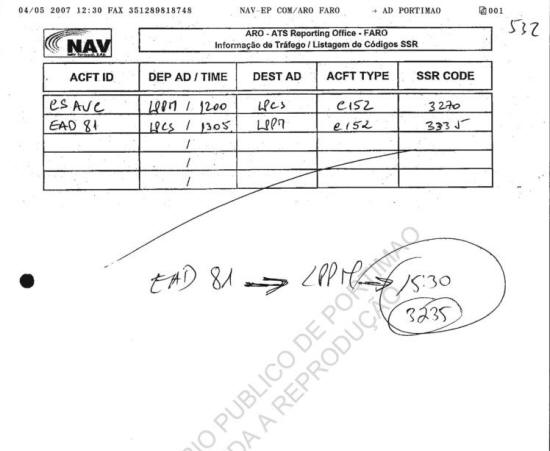 02_volume_II_o_apenso_VIII_533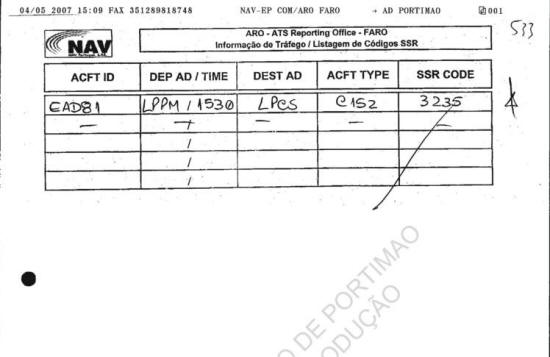 Outros Apensos VIII, Vol II Pages 534 to 538
Pages 534, 535
Closing off the volume are pages which talk about video material from the port of Albufeira being on two video disks.
Policia Judiciaria
Report on Visualisation and Analysis of Audiovisual Material


On this date I state for the process files that video images from security cameras were visualised and analysed from the Albufeira Marina, stored in electronic format on hard disks identified as Disk 1 and Disk 2, referring to the following periods of time:


- Disk 1: period of time between 03.19 on 3rd May 2007 and 23.59 on the 9th May 2007.
- Disk 2: period of time between 23.59 on 9th May 2007 and 23.59 on 12th May 2007.

Nothing of interest to the investigation was found from the visualisation and analysis of these video images.


Page 535

Ministry of National Marine Defence
National Maritime Authority
Portimão Local Maritime Police Command


Date: 24th May 2007

Subject: Disappearance of Girl.
Collection of Security Camera Images Albufeira Marina

To. Portimão PJ DIC

Within the scope of the investigations related to the case mentioned above a copy of the information and notification made by the Portimão Maritime Police is attached.

Signed
The Commander


Pages 536 and 537 missing

Page 538

Albufeira Marina Video

Starts: Vpd Intellex MM 2007 - 05-10-06-59-00
Ends: Vpd Intellex MM 2007-05-13-06-46-34

Albufeira Marina Video

Starts: Vpd Intellex MM 2007-05-06-03-20-10
Ends Vpd Intellex MM 2007-05-10-06-47-47
02_volume_II_o_apenso_VIII_538