2581 to 2584 Copy of page from Kate's bible in English and Portuguese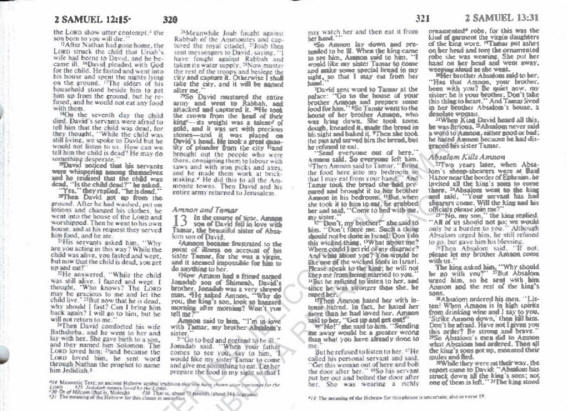 Processo Vol 10 Page 2581
I notify the case that at this date I have opened Apenso II which contains photocopies of manuscript pages found in McCann residence at rua Flores, 27 - Praia da Luz, comprising 189 pages from two exercise-books and one notepad.
This page prepared and duly signed by me
10 Sept 2007
Inspector, Joao Carlos

Processo Vol 10 Page 2582
On 10 Sept 2007, I, Joao Carlos, Inspector, added an English language Bible passage with its Portuguese translation. This page was photocopied from the Bible found in the bedroom of the McCann couple (provisional residence at rua das Flores, 27, Luz, Lagos), the relevant passage being marked [highlighted].
Additionally, there are attached copies of two articles from the printed press, which allude to the use of medication by the McCann family, and sundry information pertaining to Kate Healy.
Inspector, Joao Carlos
Processo 10 Page 2583
[BIBLE TEXT]
14 But because by doing this you have made the enemies of the LORD show utter contempt, the son born to you will die.

15 After Nathan had gone home, the LORD struck the child that Uriah's wife had borne to David, and he became ill.

16 David pleaded with God for the child. He fasted and went into his house and spent the nights lying on the ground.

17 The elders of his household stood beside him to get him up from the ground, but he refused, and he would not eat any food with them.

18 On the seventh day the child died. David's servants were afraid to tell him that the child was dead, for they thought, "While the child was still living, we spoke to David but he would not listen to us. How can we tell him the child is dead' He may do something desperate."

19 David noticed that his servants were whispering among themselves and he realized the child was dead. "Is the child dead'" he asked.
"Yes," they replied, "he is dead."

20 Then David got up from the ground. After he had washed, put on lotions and changed his clothes, he went into the house of the LORD and worshiped. Then he went to his own house, and at his request they served him food, and he ate.

21 His servants asked him, "Why are you acting this way' While the child was alive, you fasted and wept, but now that the child is dead, you get up and eat!"

22 He answered, "While the child was still alive, I fasted and wept. I thought, 'Who knows' The LORD may be gracious to me and let the child live.'

23 But now that he is dead, why should I fast' Can I bring him back again' I will go to him, but he will not return to me."

24 Then David comforted his wife Bathsheba, and he went to her and lay with her. She gave birth to a son, and they named him Solomon. The LORD loved him;

25 and because the LORD loved him, he sent word through Nathan the prophet to name him Jedidiah.

26 Meanwhile Joab fought against Rabbah of the Ammonites and captured the royal citadel.

27 Joab then sent messengers to David, saying, "I have fought against Rabbah and taken its water supply.

28 Now muster the rest of the troops and besiege the city and capture it. Otherwise I will take the city, and it will be named after me."

29 So David mustered the entire army and went to Rabbah, and attacked and captured it.

30 He took the crown from the head of their king 'its weight was a talent [d] of gold, and it was set with precious stones', and it was placed on David's head. He took a great quantity of plunder from the city

31 and brought out the people who were there, consigning them to labour with saws and with iron picks and axes, and he made them work at brickmaking. He did this to all the Ammonite towns. Then David and his entire army returned to Jerusalem.
Amnon and Tamar 2 Samuel 13
1 In the course of time, Amnon son of David fell in love with Tamar, the beautiful sister of Absalom son of David.

2 Amnon became frustrated to the point of illness on account of his sister Tamar, for she was a virgin, and it seemed impossible for him to do anything to her.

3 Now Amnon had a friend named Jonadab son of Shimeah, David's brother. Jonadab was a very shrewd man.

4 He asked Amnon, "Why do you, the king's son, look so haggard morning after morning' Won't you tell me'" Amnon said to him, "I'm in love with Tamar, my brother Absalom's sister."

5 "Go to bed and pretend to be ill," Jonadab said. "When your father comes to see you, say to him, 'I would like my sister Tamar to come and give me something to eat. Let her prepare the food in my sight so I may watch her and then eat it from her hand.' "

6 So Amnon lay down and pretended to be ill. When the king came to see him, Amnon said to him, "I would like my sister Tamar to come and make some special bread in my sight, so I may eat from her hand."

7 David sent word to Tamar at the palace: "Go to the house of your brother Amnon and prepare some food for him."

8 So Tamar went to the house of her brother Amnon, who was lying down. She took some dough, kneaded it, made the bread in his sight and baked it.

9 Then she took the pan and served him the bread, but he refused to eat. "Send everyone out of here," Amnon said. So everyone left him.

10 Then Amnon said to Tamar, "Bring the food here into my bedroom so I may eat from your hand." And Tamar took the bread she had prepared and brought it to her brother Amnon in his bedroom.

11 But when she took it to him to eat, he grabbed her and said, "Come to bed with me, my sister."

12 "Don't, my brother!" she said to him. "Don't force me. Such a thing should not be done in Israel! Don't do this wicked thing.

13 What about me? Where could I get rid of my disgrace? And what about you? You would be like one of the wicked fools in Israel. Please speak to the king; he will not keep me from being married to you."

14 But he refused to listen to her, and since he was stronger than she, he raped her.

15 Then Amnon hated her with intense hatred. In fact, he hated her more than he had loved her. Amnon said to her, "Get up and get out!"

16 "No!" she said to him. "Sending me away would be a greater wrong than what you have already done to me." But he refused to listen to her.

17 He called his personal servant and said, "Get this woman out of here and bolt the door after her."

18 So his servant put her out and bolted the door after her. She was wearing a richly ornamented robe, for this was the kind of garment the virgin daughters of the king wore.

19 Tamar put ashes on her head and tore the ornamented robe she was wearing.
She put her hand on her head and went away, weeping aloud as she went.

20 Her brother Absalom said to her, "Has that Amnon, your brother, been with you' Be quiet now, my sister; he is your brother. Don't take this thing to heart." And Tamar lived in her brother Absalom's house, a desolate woman.

21 When King David heard all this, he was furious.

22 Absalom never said a word to Amnon, either good or bad; he hated Amnon because he had disgraced his sister Tamar.
Absalom Kills Amnon
23 Two years later, when Absalom's sheepshearers were at Baal Hazor near the border of Ephraim, he invited all the king's sons to come there.

24 Absalom went to the king and said, "Your servant has had shearers come. Will the king and his officials please join me'"

25 "No, my son," the king replied. "All of us should not go; we would only be a burden to you." Although Absalom urged him, he still refused to go, but gave him his blessing.

26 Then Absalom said, "If not, please let my brother Amnon come with us." The king asked him, "Why should he go with you'"

27 But Absalom urged him, so he sent with him Amnon and the rest of the king's sons.

28 Absalom ordered his men, "Listen! When Amnon is in high spirits from drinking wine and I say to you, 'Strike Amnon down,' then kill him. Don't be afraid. Have not I given you this order' Be strong and brave."

29 So Absalom's men did to Amnon what Absalom had ordered. Then all the king's sons got up, mounted their mules and fled.
30 While they were on their way, the report came to David: "Absalom has struck down all the king's sons; not one of them is left."

31 The king stood up,

[END OF BIBLE TEXT PAGE]
Processo 10 Page 2584
Translation of bible passage into Portuguese:
Portuguese text of Highlighted above 15 to 29
2585 Copy of news article regarding grandmother's statement on the use of Calpol
10 Processos Vol X Page 2585
'Copy of news article regarding McCann's use of medication.
2586 Copy of news article re: Brian Kennedy & Pact of Silence surrounding Kate
10 Processos Vol X Page2586
'Copy of news article re: Brian Kennedy & Pact of Silence surrounding Katee
2626 to 2635 - Court documents
TRANSLATED BY INES
Processos Vol X Pages 2627 to 2628
10VOLUME_Xa_Page_2627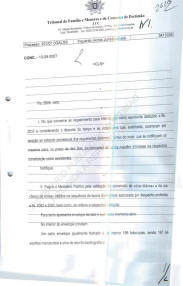 10VOLUME_Xa_Page_2628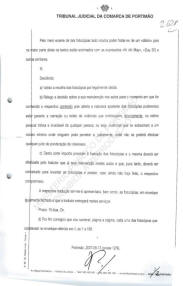 Portimao Family Court
Case 201/07.GALGS
Conclusion: 13-09-2007
Page 2624 seen.
1. As concerns the request to intervene as "assistente" seen on page 2510 and considering the passage of time and the vicissitudes that occurred with regard to the processal status of the requesting parties, notify them that in the period of ten days, they should clarify whether they are still interested in being given "assistente" status.
Notify.
2. Authorise the Public Ministry to validate the apprehension of the "two diaries" and a block note obtained during the search authorised by the dispatch contained in pages 2082 and 2083.
Therefore a sealed envelope is presented which I proceed to open now.
Inside the envelope is another sealed envelope containing 188 photocopies, 187 are handwritten and one typed.
My examination of these photocopies indicates that this is a "diary" as most of the texts begin with "Fri 4th May", "Day 30", etc.
3. Decision.
a) Validate the collection of the photocopies as being legally obtained.
b) For the moment I relegate the decision about maintaining the document in the case files until its respective contents are known because it could be the narration or experiences directly intruding upon the intimate, personal and inviolable sphere of any person, in other words, the experiences of a minimal nucleus which nobody may penetrate and upon which no judgement of interests may be made.
c) Therefore, it is important to proceed to translate the photocopies and this task should be carried out by the translator who has already intervened in these files and who should be contacted to pick up the photocopies and make her sworn declaration if she has not already done so.
The respective translation, will be presented to me, as well as the photocopies, in a sealed envelope, which the translator will deliver in these offices.
Duration: 15 days.
d) Finally I state that I will number, page by page, each of the photocopies contained in the envelope referred to in point 2, from 1 to 188.
Portimao, 2007-09-13
Signed.
3138 to 3139
- Faxed and original Letter from KMH lawyer (Rogerio Alves) asking for testimony from Peter Neil Patterson of Leicester (PNP apparently gave Kate the bible)
TRANSLATED BY INES
12 Processos Vol XII Page 3138 to 3139
12_VOLUME_XIIa_Page_3138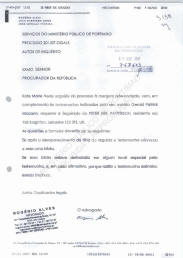 12_VOLUME_XIIa_Page_3139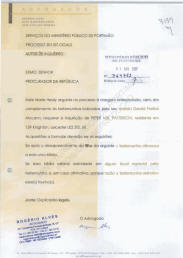 Letter from Rogerio Alves to the Public Ministry in Portimao

201.07 OGALS



07 November 2007


To the Public Prosecutor,


Kate Marie Healy arguida in the process mentioned in the reference above, requests as complement to the statements made by her husband Gerald Patrick McCann that PETER NEIL PATTERSON, a resident of Leicester is questioned.

The questions to be formulated should be the following:

If after the disappearance of the arguida's daughter the witness offered her a bible.

If this bible had been marked in any special place by the witness and if so, for what reason did the witness mark these passages.

Signed

Rogerio Alves
4486 Dispatches 25-26 June 2008 re: photocopies of KMH diary and their destruction
TRANSLATION BY INES
17 Processos Volume XVII Page 4486
17_VOLUME_XVIIa_Page_4486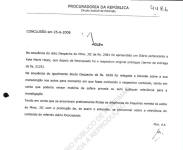 17_VOLUME_XVIIa_Page_4487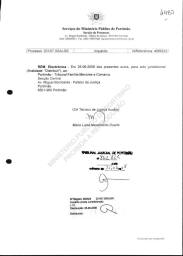 Conclusion on 25-06-2008

In the sequence of the dispatch by Mmo JIC on page 2081 a diary was apprehended belonging to Kate Marie Healy, after being photocopied the original was returned (delivery note 2125).

In the sequence of the dispatch on page 2628 the decision about maintaining the diary in the files was relegated to the moment that its respective contents were known, taking into account that it could reveal personal material or information without relevance to the investigation.

Bearing in mind that the inquiries of the investigation are almost finished we request the Mmo JIC to make a pronouncement as to the relevance of the contents of the photocopied diary.
4488 Dispatches 25-26 June 2008 re: photocopies of KMH diary and their destruction
17 Process Vol XVII Page 4488
17_VOLUME_XVIIa_Page_4488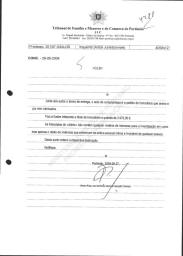 Conclusion 26-06-2008

(Presents invoice)

The photocopies of the 'diary' do not contain any material of interest to the ongoing investigation, but relate to the personal and inviolable personal experiences of any person.

Accordingly I order the diary's respective destruction.

Portimao

2008-06-27

Pedro Frias
Criminal Instruction Judge
4489 to 4493 Interpreter information and invoice
TRANSLATION BY INES
Processo Vol XVII Page 4489
17_VOLUME_XVIIa_Page_4489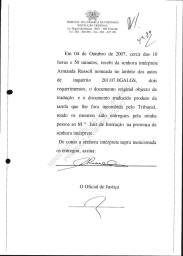 17_VOLUME_XVIIa_Page_4490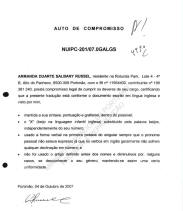 17_VOLUME_XVIIa_Page_4491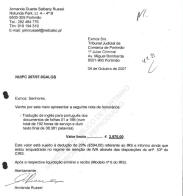 17_VOLUME_XVIIa_Page_4492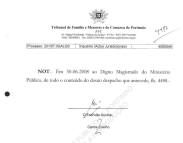 17_VOLUME_XVIIa_Page_4493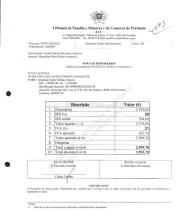 Portimao Criminal Instruction Court
On 4th October 2007, at about 10.50 I received from the interpreter Armanda Russell, named in the 201/07.OGALGS case files, the following two requirements, the original document which was the object of the translation and the translated document produced according to the price that was agreed by the Court, I personally having delivered these documents to the Instruction Judge in the presence of the interpreter.
This is the manner in which the interpreter delivered them,
signed
The Court Official
-------------------
Processos Vol XVII Page 4490
Act of Compromise
NUIPC-201/07.OGALGS
Armanda Duarte Salbany Russel, resident in Portimao, hereby makes a legal compromise to comply with the duties undertaken, certifying that this translation work is in accordance with the document written in English seen by me,
- The syntax, punctuation and graphics have been maintained, as far as possible.
- The "X" (kiss in English children's language) was replaced by the word "kisses", regardless of the number of "x"s.
- The first person singular form of the verb was used whenever the personal pronoun was not expressed, given that English verbs generally do not undergo any declination in number: and,
- The definite article before nouns and diminutives was not used, due to the fact that in some cases the gender was unknown, thereby maintaining a certain uniformity.
Portimao 4th October 2007
Signed
-----------------------
Processos Vol XVII Page 4491
Amanda Duarte Salbany Russell
Rotunda Park Lt 4 – 4ªB
8500-309 Portimao
Tel:
Email:
Portimao Judicial Court
1 Criminal Judge
Av. Miguel Bombarda
8501-960 Portimao
4th October 2007
NUIPC 207/07.OGALGS
Dear Sirs,
I present my invoice:
- Translation from English into Portuguese of the documents with page numbers 01 to 188 (for a total of 192 working hours and final text containing 38.381 words).
Brute value............2.970.00 Euros
This value is subject to a deduction of 20% (594,00 Euros) corresponding to IRS and I inform you that this is contained in the VAT regime according to article 53 of the CIRS.
After payment I will issue the receipt (IRS Model nº 6).
Yours sincerely,
Amanda Russell
Processos Vol XVII Page 4493
The receipt is in here dated 30-6-2008
4496 to 4497 Document control Bible
Processos Vol XVII Page 4496
TRANSLATION BY INES
17_VOLUME_XVIIa_Page_4496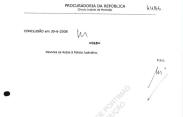 17_VOLUME_XVIIa_Page_4497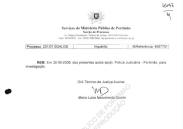 From The Public Prosecutor
Portimao Legal Circuit
Conclusion on 30-6-2008
Return the records to the Policia Judiciaria

Processos Vol XVII Page 4497
Portimao Public Ministry
Case 201/07 GALGS
Remit: On 30-06-2008 the present reports to Portimao Policia Judiciaria for investigation.
Signed
Assistant Legal Technician
Maria Luisa Nascimento Duarte