05_VOLUME_Va_Page_1286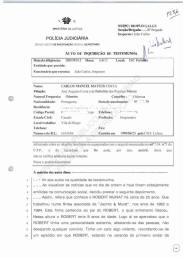 05_VOLUME_Va_Page_1287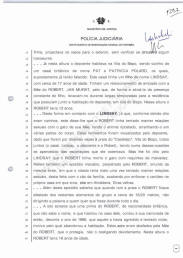 05_VOLUME_Va_Page_1288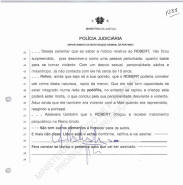 Processos, Vol V
Pages 1286 to 1288
Witness Statement of Carlos Manuel Mateus Costa
Date: 2007.05.15.
Hour: 16H15
Location: DIC Portimao
Profession: Businessman
That he comes to the process as a witness and states:
- At seeing today and yesterday's notices in the media, he has decided to give the following statement.
- States that he has know Robert Murat for about 25 years. That he worked with him at "Jacinto & Murat" from 1982 to 1984. This firm was owned by Robert's father who has since passed away. At this time, Robert was eight years old. Immediately one noticed that Robert had a strange personality, staying away from people, and not wanting to engage. He had somewhat of a violent attitude. He remembers an episode where Robert, on the veranda on the first floor of the firm, threw vases from that exterior without checking to see if anyone was underneath him.
- At this time, the witness lived in Vila do Bispo. He was the neighbour of a British couple, P.L. and P.L. who are now deceased. This couple had a daughter whose name was L******, who was 17 years old. They were friends of Robert's mother, JAN MURAT. She was always with her son and they would often go to the home next to the deponent's in that same village. At this point Robert was 12 years old.
- L******, the neighbour already mentioned, told him that Robert had tried to have sexual relations with her mother's cat. The animal responded by scratching him on various parts of his body. These injuries were seen by the by the deponent given that he [Robert] had visited the Castelejo beach in Vila do Bispo on various occasions. On one of these occasions, he saw Robert scratching at excoriations. He was told by L****** that Robert had killed the cat out of spite. He also states that he witnessed a macabre episode perpetrated by Robert. He saw him once again trying to have relations, this time with the family dog, who ended up being forced into the house, situated in Almadena, Eiras Velhas.
- Beside this, he states that when he went to the beach with Robert, he [Robert] would stay away from the rest of the group (about 15/20 metres) and not say a word to anyone the whole day.
- He also adds that a cousin of Robert, of British nationality, whose name he does not know, and who lives in his house, has suffered an assault by Robert. For this reason, she left the home. These acts were hidden by Robert's mother, who protected him and who never punished him. At this point, Robert was 16 years old.
- He would like to add that according to what he knows about Robert, he was not surprised that he was described as a disturbed person who could very easily turn violent. He is also someone with a sadistic and deviant sexual personality, and who also is misanthropic. This is based on contact with him for 15 years.
- He also states that it is his opinion that Robert could have committed a crime of this nature—abduction of a child. That he does not have the capacity of getting involved in a paedophile ring. If he did abduct this child, then the witness believes she may be dead. He concludes this from Robert's violent and deviant personality. He adds still that he also was violent with his mother when he was reprimanded and would react by kicking her.
- He asserts that Robert did receive psychiatric treatment whilst in the U.K.
- He has no other elements to offer the investigation.
- And nothing more was said, finds it in conformity, ratifies and signs.