15VOLUMEXVa_Page_3996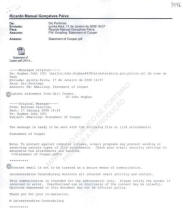 15VOLUMEXVa_Page_3997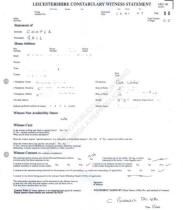 15VOLUMEXVa_Page_3998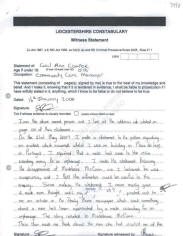 15VOLUMEXVa_Page_3999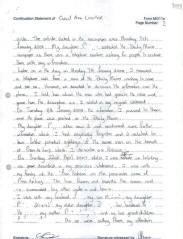 15VOLUMEXVa_Page_4000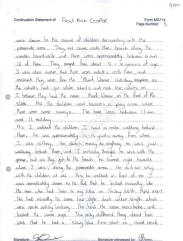 15VOLUMEXVa_Page_4001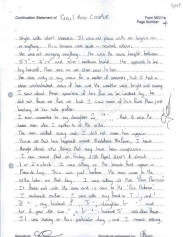 15VOLUMEXVa_Page_4002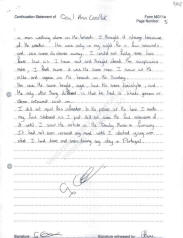 Leicestershire Constabulary
Witness Statement
Gail Ann Cooper
Date: 16th January 2008
I am the above named person and I live at the address as stated on page 00 of this statement.
On 21st May 2007 I made a statement to the police regarding an incident whilst I was on holiday in Praia da Luz in Portugal. I reported that a male had come to the villa collecting money for an orphanage I made the statement following the disappearance of Madeleine McCann, as I believed he was suspicious and I felt the information could be useful to the enquiry. Since making the statement I never gave it very much more thought until my daughter Ph***** (crossed out in statement) my mother P***** pointed out to me an article in the Daily Mirror newspaper which said something about a man had been approached by a male collecting money for an orphanage. The story related to Madeleine McCann. This then made me think about the man who had visited me at the villa. The article dated in the newspaper was Monday 7th January 2008. My daughter Ph contacted the Daily Mirror newspaper as there was a telephone number asking for people to contact them with any information.
Later on in the day Monday 7th January, I received a telephone call from a man at the Daily Mirror wishing to come and see me. However we decided to discuss the information over the phone. I told him about the man who had gone to the villa and gave him the description as I stated in my original statement. On Tuesday 8th January 2008 the information I passed to him over the phone was printed in the Daily Mirror.
My daughter P*** also saw it and mentioned some further information which I had originally forgotten and it related to further potential sightings of the same man on the beach at P da l which I describe as follows:
On Sunday 22nd April whilst I was on holiday as described in my previous statement, I was with my family at the Bar Habana on the promenade area of P da L. The bar faces out towards the sea and is surrounded by other caf? and bars.
I was with my husband, my son , my daughter, my eldest daughter, her husband, my mother and my two grandchildren. As we were sitting there, my attention was drawn to the sound of children descending onto the promenade area. They all came onto the beach along the wooden boardwalk and there were approximately between six and twelve of them. They ranged from about 5 to 8 years of age. I was also aware that there were adults with them and realised that they were from the Mark Warner holiday complex as the adults had got white shorts and red T shirts on. I believe they had the name Mark Warner on the front of the shirts. All the children went towards a play area where there were some swings. The time was between 11 and 12 midday.
As I watched the children I saw a male walking behind them. He was approximately 10 ? 15 yards away from where I was sitting. He didn?t really do anything, he was just walking behind them and I initially thought he was with the group, but as they got to the beach he turned right towards where I was along the promenade area. He did not stay with the children at all. As he walked in front of me, I was immediately drawn to the fact that he looked exactly like the man who had been to my villa on Friday 20th April 2007. He had exactly the same hair style, dark collar length which was quite untidy looking. He had the same moustache and looked the same age. The only different thing about him was that he had a navy blue T shirt on, round neck style with short sleeves. It was all plain with no logos or anything. His trousers were quite a neutral colour.
He was not carrying anything, he was the same height, between 5.7? and 5.10? and slim medium build. He appeared to be by himself, there was no one else near to him.
He was only in my view for a matter of seconds, but I had a clear unobstructed view of him and the weather was bright and sunny. I saw about three quarters of his face as he walked by, he did not face me full on, but I saw more of his face than just looking at his side profile.
I even commented to my daughter P**** that it was the same man who I had spoken to at the villa.
The man walked away and I did not see him again.
Since all that has happened around Madeleine McCann, I have thought about other things that may have been suspicious. I can recall that on Friday 20th April about 1 or 2 o?clock I was sitting on the beach front again at P da L. This was just before the man came to the villa later on that day. I was sitting at the bar Paraiso. It faces out onto the sea and is near to the bar Habana I mentioned earlier. I was with my friends Trudy and L** Dawkins, my husband, Trudy?s daughter and son. It was raining on this particular day and I recall seeing a man walking alone on the beach. I thought it strange because of the weather. He was only in my sight for a few seconds, and was some distance away. I could not fully see his face but as I have sat and thought about the suspicious man, I feel sure that this is the same man I saw at the villa and again on the beach on Sunday.
He was the same height, age, had the same hairstyle and the only other thing different is that he had a khaki green or stone coloured coat on.
I did not report this information to the police at the time. I made my first statement as I just did not see the full relevance of it until I saw the article in the Daily Mirror in January. It had not even crossed my mind until I started going over what I had done and seen during my stay in Portugal.
Signed