13_VOLUME_XIIIa_Page_3911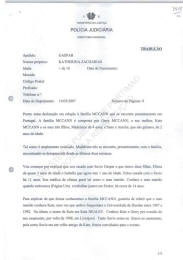 13_VOLUME_XIIIa_Page_3912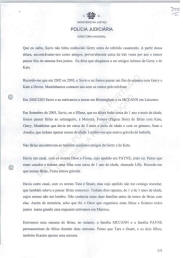 13_VOLUME_XIIIa_Page_3913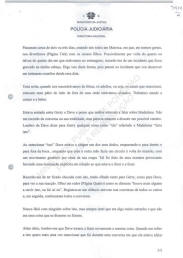 13_VOLUME_XIIIa_Page_3914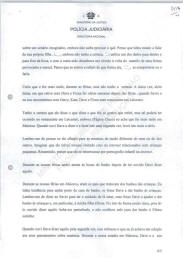 13_VOLUME_XIIIa_Page_3915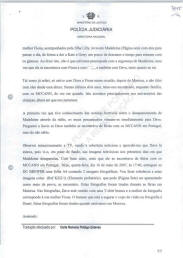 Final revised translation.

Judiciary Police
National Directorate


TRANSLATION

Surname: GASPAR
First Names: KATHERINA ZACHARIAS
Age: +18
Date of Birth:
Address:
Postal Code:
Profession:
Telephone no.:
Date of Statement: 16/05/2007
Number of Pages: 8

I make this statement in relation to the MCCANN family who are currently in Portugal. The MCCANN family is composed of Gerry MCCANN, his wife, Kate MCCANN and their three children, Madeleine, 4 years old, and Sean and Amelie, who are twins, aged two.

As has been widely covered by the news, Madeleine is not with her family presently, and has been missing for the last two weeks.

I will begin by explaining that I am married to Savio Gaspar and that we have two daughters, E., who is almost 3 and I. who is now one year old. I have been married to Savio for 11 years. I am a General Practitioner like my husband. I met my husband when we were (page 1) working together in Exeter, about 14 years ago.

To explain the way in which we met the MCCANN family, I would like to state that my husband knows Kate, as they both attended Dundee University between 1987 and 1992. At that time, Kate?s name was Kate HEALY. I met Kate and Gerry on the occasion of their wedding, around 1998, in Liverpool. Both Savio and I went to the wedding because as Savio was an old friend of Kate?s, we were both invited to the event.

As far as I know, Savio did not know Gerry before the abovementioned wedding. From that time onwards, we met as friends about three times a year and we would spent weekends away together. I would say that we became intimate friends of Gerry and Kate.

I remember that in 2002 or 2003, Savio and I spent a weekend with Gerry and Kate in Devon. We would stay in contact with each other by telephone.

In 2002/2003 Savio and I were living in Birmingham and the MCCANNS in Leicester.

In September of 2005, Savio, I and E., who at the time was about 1 and a half years old, went to spend our holidays abroad, in Majorca. We went (page 2) on holiday with Kate, Gerry, and Madeleine, who would have been around 2 and a half years old and with the twins, Sean and Amelie, who were just months old. I remember that I was pregnant with I.

During those holidays there were also friends of Gerry and Kate with us.

There was a couple, whose names were Dave and Fiona, and whose surname was PAYNE, I believe. I think that they were married and had one daughter aged about 1, named L. I remember that during those holidays that Fiona was pregnant.

There was another couple, whose names were Tara and Stuart, but whose surname I cannot remember who were also on holiday with us. They had two boys, aged 1 and 3, whose names I do not remember. I did not know these two families before we went on holidays together. From memory, I think that it was Dave who organised these holidays and we all stayed together in a big house when we were in Majorca.

We spend a week on holidays, however, the MCCANN family and the PAYNE family stayed for two weeks. I think that Tara and Stuart, and their two children, also stayed for just one week.

Two or three days had gone by, we were all staying in Majorca where, in general terms, we had fun (Page 3) with our children. Possibly, around the fourth or perhaps the fifth day abroad, I remember an incident that stayed recorded in my head. I say this in this way, because I have thought numerous times about the incident that I am about to describe since that date.

One night, when we were on holiday, the adults, in other words, the couples that I mentioned were on a patio outside the house where we were staying. We had been eating and drinking.

I was sitting between Dave and Gerry whom I believe were both talking about Madeleine. I don't remember the conversation in its entirety, but it seemed they were discussing a possible scenario. I remember Dave telling Gerry something like ?she?, referring to Madeleine, ?would do this?.

When he mentioned ?this?, Dave was sucking on one of his fingers, pushing it in and out of his mouth, whilst with the other hand he circled his nipple, with a circulating movement over his clothes. This was done in a provocative manner there being an explicit insinuation in relation to what he was saying and doing.

I remember that I was shocked at this, and looked at Gerry, and also at Dave, to see their reactions. I looked around (page 4) to see ?did anyone else hear this, or was it just me?. There was a nervous silence noted in the conversations of all the others and immediately afterwards everyone began talking again.

I never spoke to anyone about this, but I always felt that it was something very strange and that it wasn't something that should be done or said.

Apart from this, I remember that Dave did the same thing once again. When I refer to this, I want to mention again that it was during a conversation, in which he was talking about an imaginary situation, though I could not say precisely what it was about. I believe that he was talking about his own daughter, L., though I'm not certain. He slid one of his fingers in and out of his mouth, while the other hand drew a circle around his nipple in a provocative and sexual manner. I believe that he was referring to the way that L., would behave or would do it.

I believe that he did this later on, during the holidays, but I cannot be sure. The only time, besides this one, that I was with Dave and Fiona was several weeks after the holidays, when Savio and I met up with Gerry, Kate, Dave and Fiona at a restaurant in Leicester.

I am absolutely certain that he said what he said and that he made the gestures I referred to, but that could have occurred in the restaurant in Leicester, even though (page five) I believe that it was later on, in Majorca. When I heard Dave saying and doing this a second time, I took it more seriously.

I remember thinking whether he looked at the girls in a different way from me or from the others. I imagined that maybe he had visited Internet sites related to small children. In short, I thought that he might be interested in child pornography on the internet.

During our holidays, I was more attentive at the bath times after hearing Dave saying that.

During our holidays in Majorca, it was the fathers who took care of the children baths. I had the tendency to walk close to the bathroom, if it was Dave bathing the children. I remember telling Savio to took care to be there, in case it was Dave helping to bathe the children and, in particular, my daughter E. I was very clear about this, as having heard him say that had disturbed me, and I did not trust him to give bath to E. alone.

When I heard Dave say that a second time, it reinforced what I already thought in relation to his thoughts about girls. During our stay in Majorca, Dave and his wife, Fiona, accompanied by their daughter L., took Madeleine (page 6) with them to spend the day, in order to give Kate and Gerry a bit of rest and time to be with the twins. When I say this, it is not that I was worried about Madeleine's safety, since she was also with Fiona and L., and also with Dave, as far as I know.

As I have already mentioned, I was only with Dave and Fiona on one occasion, after Majorca, and I have not spoken to them since then. In the last two years, we have met, as a family, with the MCCANN, every now and then. This mainly happens on the children's birthdays, a time when we meet up.

The first time I heard of the terrible news about Madeleine's disappearance through the radio, my thoughts went immediately to Dave. I asked Savio if Dave was also on holidays with the MCCANN in Portugal but he did not know.

I watched the TV thoroughly, and seeing the news coverage, I noticed that Dave was there, because I saw him, in the background, on the television images during the first days after Madeleine?s disappearance. Based upon that, I believed that he was on holidays with the MCCANN in Portugal.

Today, Wednesday, 16th of May of 2007, at 17:40, I gave DC Brewer an A4 page containing 2 photographic images. I am going to refer to these images as (Ref KZG/1) (element of proof) that may (page seven) be presented as means of proof, if necessary. These photographs were taken during the holidays in Majorca. In the photographs, Dave is wearing a white T-shirt and the woman in the photograph corresponds to his wife Fiona. The man who is holding the glass of wine in the photograph is Stuart. These photographs were taken while we were in Majorca.

Signed:

Translation [PJ] done by C.R.F.E.

Note: Retroversion from the Portuguese translation
3916 to 3920 Witness statement of Arul Savio Gaspar 2007.05.16
TRANSLATED BY INES
13Processo 13 pages 3916 to 3920
13_VOLUME_XIIIa_Page_3916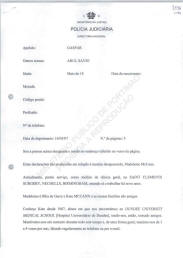 13_VOLUME_XIIIa_Page_3917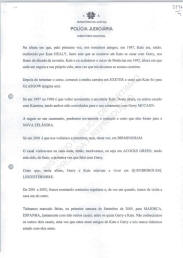 13_VOLUME_XIIIa_Page_3918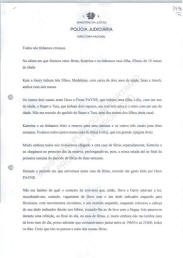 13_VOLUME_XIIIa_Page_3919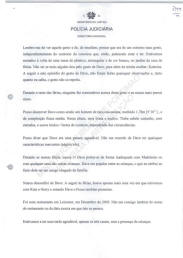 13_VOLUME_XIIIa_Page_3920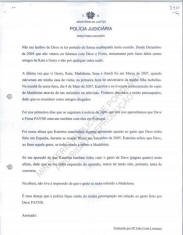 Witness statement of Arul Savio Gaspar 2007.05.16
Translation:

Name: Arul Savio Gaspar

Date of statement: 16-05-2007

This statement was made in relation to the disappearance of Madeleine McCann.

I currently work as a GP at Saint Clements Surgery, Birmingham, where I have been employed for the last nine years.

Madeleine is the daughter of Kate and Gerry McCann and we are friends of the family.

I have known Kate since 1987, when we met at Dundee Medical School, and became friends. We have remained in touch all this time and meet up 3 or 4 times a year, we often talk on the phone or email each other.

When we first became friends in 1987 she was still known as Kate Healy, this was the case until she married Gerry at the end of 1990s. Kate and I completed our medical degrees in 1992, when we each carried on with our lives, once we had begun our careers.

After I finished my degree I began my career in Exeter, and I think Kate went to Glasgow.

I only met up with Kate again in 1997 or 1998. At that moment I was married to Katherina, we had both been invited to attend Kate and Gerry's wedding.

After their wedding we lost contact and I think they went to New Zealand.

We only met up again in 2001 in Birmingham.

The couple visited us in the house where we then living, in ******, and this was the first time I talked to Gerry.

I think that at the time Kate and Gerry were living in Queeniborough, Leicestershire.

From 2001 and 2005 we were in regular contact and often visited each other's homes.

We planned holidays for the first week of September 2005 in Majorca, Spain, together with three other couples including Kate and Gerry. We did not know the other two couples, they were friends of Kate and Gerry's, we had never met them before.

We all had children.

When we went on this holiday we had one daughter, ****** aged 18 months.

Kate and Gerry had 3 children, Madeleine almost two and the twins who were six months old.

The other couples were Fiona and David Payne and their daughter Lily who was one year old and **** and **** who had two boys aged three and one. I do not remember **** and *** surname nor the names of their children.

Katherine and I had booked the holiday for one week and the other two couples had booked for two weeks. We stayed together in a large villa.

We all arrived at the villa separately.

During the period we stayed at the villa I remember a gesture made by David Payne.
I do not remember the context of the conversation between David and Gerry, but I do remember seeing David use his left index finger to rub his nipple, using circular movements, whilst he put his right index finger into his mouth, touching his tongue. This happened during a meal, at the end of the day in the villa, I do not remember the time or the date, but we would usually dine between 19.30 and 21.00 every day. I think this happened in the middle of the holiday.

I remember that when I saw this gesture I immediately thought it to be in very bad taste, independently of the context of the conversation they were having. We were sitting around a white plastic table in the villa. I don't know if anyone else saw the gesture, apart from my wife Katherina. After this gesture, we did not notice any others and as far as I know, the gesture was not repeated.

We never commented on this gesture during the rest of the holiday and I thought no more about it.

I can describe Dave as a Caucasian male 1.78 m tall, and of a medium complexion. He had brown hair and used glasses/contact lenses depending on the circumstances.

I can say that Dave was a pleasant person. I do not remember him having any unusual characteristics.

During the holidays Dave never behaved in an inappropriate manner with Madeleine or with any of the other children. Dave was popular with the children and I took this to be because he was a close friend to the family.


I never distrusted Dave. After the holidays there was one occasion when we were with Kate and Gerry and Fiona and Dave were also present.

That was in a restaurant in Leicester in 2005. I do not remember the name of the restaurant.

We had a pleasant evening, just the three couples without the children.

I do not remember Dave having behaved inappropriately on this occasion. We have not spoken to Dave or Fiona since December 2005, only due to their being friends of Kate and Gerry, not for any other reason.

The last time I saw Kate, Gerry, Madeleine, Sean and Amelie was in March 2007 when they came to our house for the first birthday celebration of my daughter *****. On the morning of 4th May Katherine saw the news about Madeleine on television. We were very shocked and worried given that they were close friends.


It was during the days following the news of the abduction that we discovered that Fiona and David Payne were also with them in Portugal.

It was at this moment that Katherina showed concern at the gesture made by Dave in Majorca in 2005. Katherina remembered that when Dave made the gesture he was referring to Madeleine.

I only remember that Katherina saw the gesture at the time, I had forgotten the episode, it was never the subject of conversation.

At the time I did not feel the gesture was referring to Madeleine.

It is my wish that the police are aware of my preoccupation with the gesture made by David Payne.
Signed. .