02_VOLUME_IIa_Page_344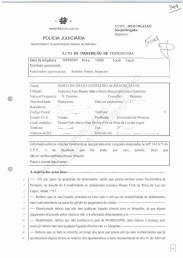 02_VOLUME_IIa_Page_345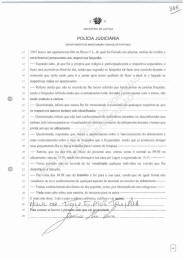 Witness Statement
Maria Da Graca Guerreiro Alao Goncalves
Date/Time: 2007/05/07 11H00
Record (book) Keeper
Portuguese
She comes to the case as a witness, having worked as a record (book)-keeper in the Accounting Section of the Ocean Club resort in Praia da Luz since 1985;
She states that her functions involve all accounting services of the resort, but mainly the administration of the payment of accounts;

When asked, she says that she does not have any direct contact with the guests, as when payments are made, they are not made directly to her;

When asked she says that she does not know Madeleine's parents, nor the child, given that, as she has already stated, she has no direct contact with guests;
She says that as far as she can remember, during the years that she has worked at the resort, she knows of some thefts from inside the apartments and most recently on 16th April 2007 there was a theft from an apartment in Block 5 L, from where a plasma display screen, credit cards and a mobile phone belonging to the respective guests were taken.
As far as she knows, as she prepared the papers for the insurance company, the theft took place at the end of the day and according to the guests the event happened when they had left for dinner after completing check in and having left their suitcases in the apartment.

She says that she does not remember having been told that doors or windows had been forced, the guests having said that they had just left the door on the latch, however she is not certain.
When asked, she says that she was never told of the existence of any suspects or where those responsible for the theft had been identified.
When asked, she replies that she has no knowledge of strange or unknown individuals who have been stopped or seen inside or outside of the resort during the time that she has worked there.
When asked, she says that she has never been asked about the functioning of the resort or more precisely about the type of guests that frequent the resort, although some friends have asked her if there was work to be had in the cleaning sector.
She says that on the 3rd of May, 2007, she came to work as normal, at 09H30, left at 13H00, having gone to lunch at home in Lagos and returned at 14H30;
During this period, she does not remember having seen any individual or vehicle that caught her attention;

At about 18H30, she left work and went home and again did not see anything out of the ordinary or suspicious in the exterior of the resort;
She became aware of the facts the next day, Friday, by means of a colleague.