cr3_3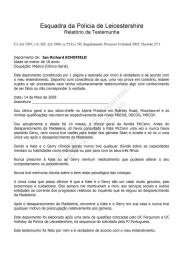 Testimony from Ian Richard Schofield 14 May 2008
3-Witness statement of Ian Richard Schofield (Dr. at Alpine Practice) 2008.05.14
Testimony of: Ian Richard SCHOFIELD
Age is less than 18 years:
Occupation: Physician (General Practice)
This deposition (comprising 1 page and signed by me) is true and according to my understanding. I am aware that, if proven to the contrary, I will be subject to prosecution if I have voluntarily testified to something with
knowledge of it being false or not corresponding to the truth.
Date: May 14, 2008
Signature ______________________________________

I am a GP and senior partner in Alpine Practice in Rothley Road, Mountsorrel and in summary my qualifications are respectively at MBChB, DRCOG, MRCGP.
I am currently, and have been for 14 months, the GP of the McCann family. Before Madeleine's disappearance, I had only consulted Kate McCann once and never had assisted Gerry, nor ever had reason to deal with the twins Sean and Amelie and only saw them once after the disappearance of Madeleine.
As Kate and Gerry are general practitioners I never had any doubt about their capacity or mental abilities as individuals or as parents to their three children.
I never prescribed Kate or Gerry any medication that could alter their behaviour or demeanour.
I never had any doubt about the psychological welfare of the children.
The only thing I can affirm is that Kate and Gerry are a very genuine couple, affectionate and careful [caring] parents. They always kept me, social services and other authorities informed on the progress of the investigation that followed the disappearance of Madeleine.
After the disappearance of Madeleine, I met Kate and Gerry at their home and never had any cause for concern about the twins.
This testimony was prepared from a series of questions raised by DC Ferguson and DC Holliday of the Leicestershire police, following the request by the Portuguese PJ.
This testimony was made by me and it is true according to my understanding.