HOLIDAY MAKER WITNESS STATEMENTS
127 to 128 Statement of Richard McCluskey sighting 2007.05.09
05 01 Apensos Vol 1 Page 127 - 128



Richard McCluskey



Age 61

Retired

Statement Date 9/5/2007

On Saturday 05 May 2007 at approximately 01.50hrs I was with my wife Susan in the holiday resort of ALVOR, PORTUGAL. We were walking up the bank from the town of Alvor in order to return to our hotel, known as the Clube Alvorferias, after a night out. As we approached the junction I observed a white ford transit vehicle drive up the bank and stop well away from the kerb in the junction turning right, blocking traffic turning right. I would describe the vehicle as a flatbed 'transit' vat with a white cab area with white metal fold down side flaps/boards. I recognise the type of vehicle as I used to drive one. I did not notice whether it had any identifying marks of advertising on it.

As it had caught our attention I stopped and watched. I then observed a dark skinned male, well built, dark hair (page 1) get out of the vehicle and begin to stagger up the bank in a drunken manner. I could not see much detail because it was dark but I could see that he had cradled a child of about 3-4years over his left shoulder. Again I could not give anything else due to the darkness but it was clear that the child was not making any noise, or crying, or appear in distress. There was no movement at all.

I was aware that a child was missing in the area and therefore went and took the registration of the vehicle, which my wife wrote initially on her hand and later on a piece of paper.

I watched him stagger approx 200m up the bank and then turn right on a road into a complex area. It was at this point that the situation appeared very strange and so we decided to take the vehicle number.


As we were taking the number a woman appeared half running towards the van from the road on which the van was parked. She was clearly in distress and upon seeing us began to talk in Portuguese. We could not understand her and at this point we were the only other people on the street; but as we were talking a young Portuguese couple appeared from (page 2) the same direction as the woman in a small red vehicle and stopped. The male came over and was able to speak good English he translated what the woman was saying. In the conversation it became apparent that the couple had observed the male with the child in a situation further up the road and had seen the man hit the woman and had driven around the block and found the woman with us. He said he had phoned the police. Thinking everything was alright we left the couple, woman and van in situ and entered our apartment.

Statement continues with a description of what happened when they reported the incident.

Upon entering the apartment we put on Sky news and became aware of a news report about a young couple acting suspiciously in relation to the disappearance of the British child. I therefore went to complex and informed them of what I had seen and gave him the registration on the paper. We then returned to the area and saw the woman and the vehicle still in place. I returned to the apartment and after an hour hadn't heard anything so I contacted the police. Eventually I got through to an English speaker and explained what had happened. The police stated they were sending someone to reception. I decided to go down and wait for them. As I got downstairs I could see two police in a patrol vehicle outside reception. The officers spoke English and I explained the situation and gave them another copy of the registration which we had written down. They told me they were dealing or had dealt with the situation. Then at about 03.15 we checked the area again and the van and woman had gone.

I can confirm that the registration was 3893 VL for the transit vehicle. I have also produced a hand-drawn map of the local area which I now produce as RMC/1.
Signed
R. McCluskey


There is a handwritten note in Portuguese on the statement :

It has already been checked! They are Ukrainians from Alvor with a blonde daughter who attends the "A Flor" crèche in Portimao.
129 to 130 Statement of Susan McCluskey sighting 2007.05.09 (English)
05-01-Apensos V, Vol 1, Pages 129-130
with thanks to skeptial


Apensos V, Vol 1 Pages 129-130

Page 129 (Page 1 of 2)


CONFIDENTIAL
STATEMENT
Number : S18
Surname : MCCLUSKEY
Forename(s) : SUSAN
Age : OVER 18 Date of Birth : 14th May 1957
Address : x, LIxx AVxxxx, SUNDERLAND, TYNE AND WEAR
Postcode : SRx xxx
Telephone No : 019153xxxxx
Statement Date : 9th May 2007 Number of pages : 3

I am the above named person living at an address known to the Police.

At approximately 10 to 2 in the morning of Saturday 5th May 2007, I was on holiday in the town of ALVOR, PORTUGAL, with my husband Richard. We were walking up the bank from the town returning to our hotel complex known as, CLUBE ALVORFERIAS, after a night out. We were the only people on the street. We were on the main road which was dark but lit by street lighting.

As we approached the hotel Raymond(sic) - (Richard surely ??) - drew my attention to a vehicle which had stopped on the junction across the road. It was parked in the middle of the junction and initially I had thought it had broken down because of the way it was stopped. I did not have any glasses on but I was able to distinguish a male with a child get up and stagger up the hill. I can say the vehicle was about 20-30f when it stopped (PAGE ONE) but we had a clear and unobstructed view of the junction. There was no traffic and the junction was well lit with street lighting. Raymond(sic) then decided to go across and check out the vehicle. We both went over and wrote the vehicle registration of the white
'pick-up' vehicle down on my hand. We had been at the vehicle only a very short time, possibly a couple of minutes when a woman and a couple in a dark vehicle appeared from the road in front of the van almost simultaneously. I could describe the woman as 5 ft 5 inches - 5ft 6 inches blonde ponytail with a very worried / white face. I only noticed she was casually dressed. I could see that the male who got out of the car was on his mobile phone. We got into conversation as he could speak English and I asked him whether he was looking for a man with a child to which he said yes. He said he had seen the man hit the girl who was her(sic) (possibly should be 'him') and had turned around to see if he could catch him which was how he had ended up here. I also asked him if he knew about the missing child to which he said yes. I said can we leave it with you and he said 'yes'. He was still on the (page 2) phone at this time.


Page 130 (Page 2 of 2)

We left and returned to the hotel. We went to security to report the matter but the doors were locked. We therefore went to our room and had a coffee watching Sky News. We saw the news that the girl still had not been found and a report of a couple acting suspiciously. We could not settle and returned to security and woke him up and explained the situation, after which we returned to the pick -up and saw it and the woman still there. At this point the security guard said leave it with me and initially we did. However after a while we had not had anybody call so we went back down and spoke to the security man who stated he had spoke to the woman who said she had a family argument over not being able to find a child minder, and he had to leave the van there for the boss to pick it up. We were incensed by this in light of what was on the news and Richard asked for the Police and contacted them himself.

(signed) S MCCLUSKEY

Signature witnessed by :
131 Additional statement of Richard McCluskey 2007.05.09 (English)
05-01-Apensos V, Vol 1, Pages 131
Table of Contents : APENSOS V, Volume I, Supposed Sightings and Locations (FILE 01)....(PDF Page 119)....Page 137?"Handwritten Richard McCluskey statement"

Page 137 (Page 1 of 1) (Copied and pasted from the Page 131 reference)

Statement made 12th September 2007

I am the above named person and I live at an address know to Police. In early May 2007 myself and my wife were on holiday in Portugal. I have already provided a witness statement in relation to the disappearance of Madeleine McCann. I would like to add the following;

The events of the past week or so, with the McCanns being very much in the news, have triggered my memory in relation to the incident.

In my original statement I described a distressed female who ran down a road towards a white van I had described.

Having viewed recent news footage of Mrs McCann I am now almost certain that she is the female I described as being in a distressed state. I say this because of her slight build, high cheekbones and her eyes and hairstyle.

I've agonised for days over whether or not to contact the police about this because it is a terrible thing to accuse somebody of. It had just not crossed my mind that the child?s parents could in some way be involved in her disappearance.

I have watched a good deal of news coverage about the McCanns over the past week or so. Another thing which has played on my mind is the coverage of Mr McCann walking off the aeroplane holding one of his young children. The way he was holding the child over his left shoulder reminded me of the man carrying the child from the white van in Portugal.

Although I could not describe the male I'd seen in Portugal because he had his back to me, it was the particular way Mr. McCann held the child that made me think. He held the child over his left shoulder with his left arm supporting the child?s weight.

(signed).......R McCluskey
133 to 135 Fax from Northumbria police re McCluskey statements
05-01-Apensos V, Vol 1, Pages 133-135


Apensos V, Vol 1, Pages 133-135

Page 133 (Page 1 of 3, with one page (Page 134) Missing )


FAX from Northumbria Police
Block 9/10
Force HQ
Ponteland
Newcastle upon Tyne
Telephone 01912889356
Fax : 62388

From : DC Colin McLean
To : DC Andy GIERC, OP TASK
New Parks Police Station
Leicester
Telephone No : 011624844452 Fax No 01162312190
Date/Time : 9th May 2007 14.33 Number of Pages (including this one) : 9

MESSAGE

Andy,
Please find enclosed the attached statements of Mr and Mrs McCluskey and hand drawn map of the

locale. If there is anything else you need please let me know.

Cheers

'Don' McLean


Page 134 Missing Page. (Page 2 of 3)


Page 135 (Page 3 of 3)


(Note : Entered here is a hand-drawn Map of locale with explanatory entries thereon.)
136 Email re McCluskey statement 2007.09.13
05-01-Apensos V, Vol 1, Pages 136
Email from Stephen Robinson, Northumbria police to Leicestershire police

13th September 2007

Please find attached a witness statement provided by Richard McCluskey. Firstly may I apologise for the delay in forwarding but the system crashed at this end and the problem has taken some time to resolve.

Mr. McCluskey states he has already provided a witness statement in relation the enquiry having been on holiday in Portugal at the relevant time. He provided a statement in relation to suspicious activity he observed in the early hours of Saturday 5 May 2007.In the original statement Mr. McClusky states he described a male alighting a white coloured van and walking along a road carrying what appeared to be a motionless child. He then states he observed a distressed female run down a road and approach the same white coloured van.

Mr McCluskey did go into detail regarding the incident but then stated that all details were covered in his first statement, provided in May 2007. Not having had sight of the original statement it is obviously difficult to comment on the context and accuracy of the account given.

Having viewed recent media coverage regarding the investigation, M, McClusky now states that the female he saw and described is Mrs. McCann( the missing child?s mother). He states he is "almost certain" that they are the same person and has agonised for days over what to do and whether to contact Police. He is acutely aware of the possibly implications of his account. When asked why there had been such a time lapse in him making this "identification" he explained it as follows:
Mr. McCluskey states the thought had never crossed his mind that a child's parents could be implicated in such a matter. Media coverage over the past week or so has cased him to take a renewed interest in the case. The only thing which prevents Mr. McCluskey from stating he in 100% certain in his "identification" is the fact that he would , in his words, " hate to incriminate and innocent person."

Mr McCluskey appears to be a credible person and is not recorded on local intelligence systems.
137 Handwritten Richard McCluskey statement
WITH THANKS TO SKEPTICAL
05-01-Apensos V, Vol 1, Page 137


(Note : This is a handwritten original and is the 2nd Statement, (made on the 12th September 2007), which Mr McCluskey made to the Police. It is the same as the Typewritten-up copy of his 2nd Statement referred to on Page 131 (in the Table of Contents Thread)?"Additional statement of Richard McCluskey 2007.05.09". I have copied and pasted the Page 131 copy here to save retyping the same statement again".

Page 137 (Page 1 of 1) (Copied and pasted from the Page 131 reference)

Statement made 12th September 2007

I am the above named person and I live at an address know to Police. In early May 2007 myself and my wife were on holiday in Portugal. I have already provided a witness statement in relation to the disappearance of Madeleine McCann. I would like to add the following;

The events of the past week or so, with the McCanns being very much in the news, have triggered my memory in relation to the incident.

In my original statement I described a distressed female who ran down a road towards a white van I had described.

Having viewed recent news footage of Mrs McCann I am now almost certain that she is the female I described as being in a distressed state. I say this because of her slight build, high cheekbones and her eyes and hairstyle.

I've agonised for days over whether or not to contact the police about this because it is a terrible thing to accuse somebody of. It had just not crossed my mind that the child?s parents could in some way be involved in her disappearance.

I have watched a good deal of news coverage about the McCanns over the past week or so. Another thing which has played on my mind is the coverage of Mr McCann walking off the aeroplane holding one of his young children. The way he was holding the child over his left shoulder reminded me of the man carrying the child from the white van in Portugal.

Although I could not describe the male I'd seen in Portugal because he had his back to me, it was the particular way Mr. McCann held the child that made me think. He held the child over his left shoulder with his left arm supporting the child?s weight.

(signed).......R McCluskey
140 to 141 Email with McCluskey statement 2007.09.28 (English)
apenso5_vol_1_Page140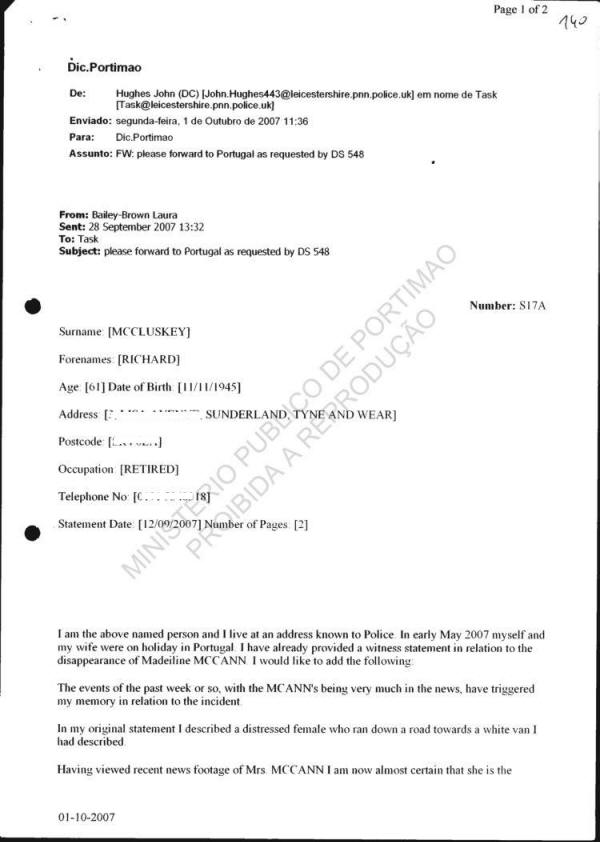 apenso5_vol_1_Page141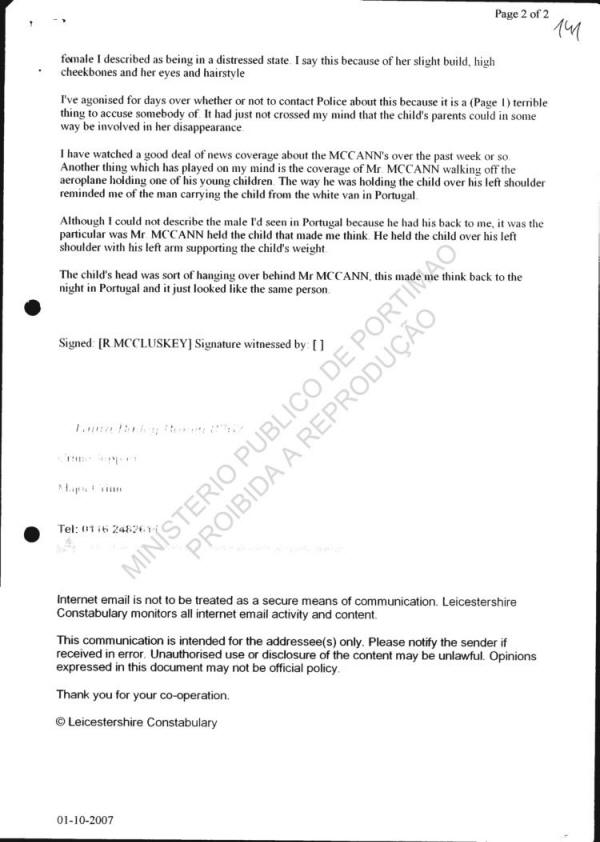 1123 to 1125
- Service information re Ukrainian couple ruled out
TRANSLATED BY INES
5 - 5 APENSOS V, Volume V Pages 1123-1125
Service Information

Date 2007/05/25

To: The Coordinator of the Criminal Investigation

From: Inspector F. Antonio

Subject: Communication of facts about the Disappearance of Madeleine McCann

We inform you that today this police station received a phone call followed by the sending of this handwritten document by fax at about 11.15 by a person who identified herself

Handwritten:

- Same situation
- Two different number plates
- One (JG) already discounted => NEG
- The other (CG) Toyota Maize => NEG
28th May

Typed text continues:

as MK with residence at Rua R. A. D, Leca do Balio.

At this address at about 13.00 KZ, a Ukrainian citizen with temporary residence permit no. +++, mobile n+++ the wife of the aforementioned accompanied by her baby son DK was contacted by myself and my colleague Milton Trigo. She identified her husband as being the owner of vehicle with NIF nº 234700025, her husband, together with a colleague from work, on Monday 21-05-2007 at about 15.00 left for the Ukraine for some time, also taking with them her daughter aged 4, IK, who like her son was born in Portugal where they have lived for the past 6 years. Her husband and daughter are staying at the following address *******, Ukriane, telephone number *****.

Personal identification documents for the husband and daughter wee not presented as they had them with them but other proof of their names was presented. Recent photos were shown, of April this year and from before with their daughter in Leca where they live. Physical similarities were noted with the missing girl Madeleine McCann, although (the Ukrainian girl) was bigger and with a rounder face.

Having previously spoken to the neighbours it was established that the girl had left with the father and a colleague on Monday for the Ukraine. It was observed that having taking this girl on such a long journey was justified that she did not stay with the small boy (which would have been) a burden for the mother.

The description of the facts denounced was explained in this way. There was no doubt that the girl was the daughter of both, known by the neighbours and having lived at the address for a long time.

By the woman's admission, without mentioning the case of Madeleine McCann further, as she was now being heard by the police and regarding any doubts concerning the motive, she says that she had already observed - as had her husband - that her daughter could be confused with Madeleine because of the physical similarities and age.

For your information.

Signed

The Inspector

Following page has car registration details 1125