969 SOCA International enquiry form re German suspect
TRANSLATIONS BY INES
05-05-Apensos 05 Vol V Page 969

From SOCa

To: John Hughes, Leicestershire Police

Operation Task

Germany

Information has been received as the enquiry from UK Crimestoppers. It gives detailed information about a suspect in the Madeleine McCann case.

The suspect is named as a German national with the surname of M******. He has an alias of H*************. He is described as a white male 55-60 year old, 5'8" tall, muscular build, with short grey wavy hair.

He is apparently actively involved in people trafficking and paedophilia and may be known to the German authorities. He may have an associate by the name of F********.

We request the German databases be checked for any information relating to this man.
2372 to 2373 Cover Letter re possible Irish sexual predator in Portugal
1970 to 1972 Email re sighting of suspected sex offender
05 11 Apensos 05 Vol XI Pages 2372 to 2373.
05 09 Apensos 05 Vol IX pages 1970 to 1972
apenso5_vol_11_p2372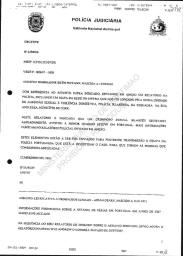 apenso5_vol_11_p2373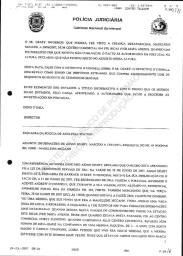 apenso5_vol_9_p1970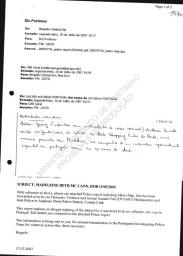 apenso5_vol_9_p1971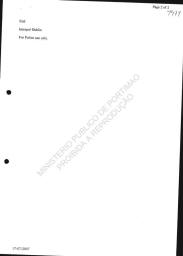 apenso5_vol_9_p1972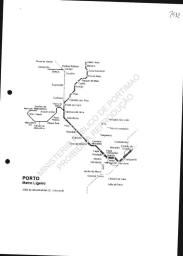 Policia Judiciaria

Interpol Office


Subject: Madeleine McCann

With reference to the above subject we are sending you a police report including Metro map that was sent to us by out unit for domestic violence and sexual aggression from the Irish police, Cork division. This report refers to a registered Irish sexual offender. Allegedly he saw the child when he was in Portugal, more information is sent in the police report in annex. These elements are to be sent to the Portuguese police force.

From Dublin


Report related to sexual crimes - A***** G*****

Information provided during his holiday stay in Portugal in June 2007 - Madeleine McCann.

In the sequence of my report 20/06/ 2007 I send the following.


Mr G*** says that he could have seen the missing girl, Madeleine McCann in the shopping centre in Sete Bicas on 20-06-2007. When he was asked why he did not communicate this fact to the Portuguese police, he said that he had not thought about it much at the time.

On this date I spoke to Detective Connell about Mr G****. Detective Connell describes Mr G***** as a very strange individual who fully complies with the sex register requirements.

These elements are sent to the Portuguese police for their information.


Information about A***** G*****, resident in Cork - Madeleine McCann

With reference to the above A****** G****** stated that he himself had been registered by the 2001 sexual crimes law. On the afternoon of 29th June 2007, he went to the Barrack Street police station, the reason he went was the fact that on 21st June he returned from a trip to Portugal. He informed Officer O'Connell that during his trip he stayed at Rua da Firmeza in Porto. He also mentioned that on 20th June at 17.30 when he was travelling he saw a girl whom he thinks was Madeleine, he just has a vague idea and returned to the police station on 3rd July to provide more detailed information. When he was travelling on the metro, station Sete Bicas (see map), when he was at this stop he went to the shopping centre. When he was walking towards the shopping centre he saw a middle aged man walking with a girl aged 3 - 4, with a slim face and long blond hair. He says that he did not think it normal that the girl should be with an older man. He says that they were both sitting on a bench outside a clothes shop on the ground floor. When asked if he thought the girl was distressed, he stated that she was not, but she was looking straight ahead. A*** G**** was not able to elaborate on the clothing of the girl, other than she had pants on. His description of the male was 55-58 years old, either Spanish or Portuguese national, with balding hair, black hair to the sides, wearing grey pants and grey shirt with a white pin stripe. When asked why he didn't report it to the authorities in Portugal, he stated that he did not think very much of it at the time. A*** G*** has provided a map of the relevant metro system which is attached.

Forwarded for your information please.

(English version in Apensos Vol IX Pages 1970 - 1972)
2545
- Service information re phone call from SIC journalist sex offenders info
TRANSLATION BY INES
12 Apensos Vol XII Page 2545

Service Information

Date: 2007-08-01

To: Inspector Figueiroa, Coordinator of the Criminal Investigation

From: Inspector Teixeira


Subject: Information about missing girl

I bring to your attention that on this date at about 22.45 a phone call was received from number 21-417-94-00 made by a female who identified herself as A*** A****, a journalist with the SIC television station who said that she had received a phone call made by a female individual, who did not provide any elements of identification, saying that she has seen the missing English girl, Madeleine McCann, accompanied by J**** M*****, a doctor from Povua do Varzim, a known paedophile.


At about 23.15 the Porto DIC communicated to this police force that they had received a phone call from Jornal de Noticias, telling of a communication with the same contents, received by the newspaper.

Signed

Inspector Teixeira


Handwritten note: To be registered and sent to Portimao DIC.
90 or Processo 3033 Email/dissemination report re suggestion of Belgian paedophile ring 2008.04.28
05 14 Apensos 05 Vol XIV Page 90
also Processo 3033


Information Report Leicestershire Police

Date 04-03-2008

Information Markers

Sexual Offences, paedophiles

Information

Intelligence suggests that a paedophile ring in Belgium made an order for a young girl 3 days before Madeleine McCann was taken. Somebody connected to this group saw Maddie took a photograph of her and sent it to Belgium.

The purchaser agreed that the girl was suitable and Maddie was taken.
93 Fax & Processo 3036
05 14 Apensos 05 Vol XIV Page 93
also Processo 12 Page 3036

To Interpol


From Paolo Rebelo


In reply to your fax dated 23-05-2008 relating to the request for additional information from the Belgian authorities, with regard to the message received by this police force containing 'intelligence' information that place the hypothesis of the disappearance of Madeleine as being the involvement of a paedophile ring from Belgium apart from the fax received after the GNI request, we do not have any other information about this subject.
With compliments
Paolo Rebelo
134 to 135 External diligence in Lagos and Odiaxere
01 Processos Vol I Pages 134 to 135

External Inquiry Report


Date: 2007-05-04

Place: Lagos and Odiaxere

By : Inspectors Simao and Gomes

Description and Result of Inquiry


In response to an order from superiors and in response to a communication received by the PSP Lagos Squadron saying that in Odiaxere at about 17.00 a woman was seen pushing a car with a little girl who was apparently Madeleine McCann. By making various trips around the streets of the locality, the woman was found pushing the car in the main road with a small girl.

When asked to identify herself, she responded that she was M***** I***** C******, resident in Odiaxere and that the little girl was her niece, aged two, whom she was taking care of at that moment.

The undersigned approached the little girl, who told him that she was two years old in Portuguese and that her name was J***** and that her aunt was pushing the car.
The inquiry was terminated, stating that this was absolutely not Madeleine McCann.

Afterwards and taking into account document 93/05 JAPM relating to child abuse, Mr C***** C***** R***** an English man was investigated, who had fled from justice to an unknown destination and that his mother and stepfather own a bar called the Plow (sic) and Arrow on the main road of Luz, some 150 metres from the site of the events and it was thought important to establish whether this individual had been present in the region on the date of the events.

The Man's stepfather said that his wife was in England and that her son C***** R**** R**** since the facts that had led to him being included in the document had not returned to Portugal and stated that he was working in Iraq as a photographer.

Signed.
1113
- Information regarding Irish citizen who noticed stranger in PdL around the time of disappearance
TRANSLATED BY INES
04 Processos Vol IV Page 1113

IP Lisbon

Subject: Disappearance of the girl Madeleine McCann

We inform you that an Irish citizen, Tim Clarke who was on holiday in Portugal visited the Black Dove pub in Alvor with his family on 01-05-2007. They were celebrating his youngest daughter's birthday.

Between 10.20 and 11.00 an unknown individual approached his daughter and embraced her but he did not have any link to the group.

Mr Clarke thought this strange.

Description of the stranger:

English or Irish citizen
1.67 metres or 1.72 in height.
Aged over 30
Pale complexion
Wearing a dark T-shirt

Without further description.

This information is transmitted so that the necessary measures can be taken. If more information is needed from the person mentioned above, he is willing to be contacted.

With compliments

IP Dublin
11-05-2007
3981 Information document Information that sex offenders listed on pages 293 to 300 were investigated in minute detail and nothing was found relating to the case of the missing child, Madeleine. 2 November 2007.
13-Processos Vol XIII Page 3981
NUIPC - 201 07.0 GALGS
4th Brigada


INFORMATION

Concerning the information in Folios 293 - 300, I can inform you that in spite having carefully explored and analysed with minute detail, nothing useful was found of interest to the investigation. In spite of the individuals mentioned having criminal pasts linked to illegal practices of a sexual nature, no relation was detected with the disappearance of the British child, Madeleine McCann.

Portimao, 2nd November 2007

Inspector

Joao Carlos

Note: Pages 293 - 300 are missing from the DVD.