13_VOLUME_XIIIa_Page_3982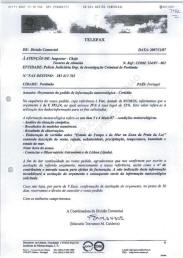 Processo Vol 13 page 3982;

FAX dated 2007/11/07
from Commercial Division, Institute of Meteorology
to Chief Inspector Tavares de Almeida, PJ DIC Portimao
Ref: COME 324/07-062

Subject: Quotation for request of meteorological information

Pursuant to your request, whose reference is a Fax dated 07/10/25, we advise that the cost is 395,14 including VAT of 21%. This amount refers to the use of data/information for the purposes indicated.

The meteorological information refers to the days 3 and 4 May/07 - meteorological conditions.
- Analysis of synoptic situation.

- Results of numeric models.

- Result of observations.

- Certified copy of "State of the Weather and Sea in the Area of Praia da Luz" containing a description of wind, gusts, cloudiness, rainfall, temperature, humidity and the state of the sea.

Note: hour of sunset.

- Contact details of Astronomical Observatory of Lisbon (Help).

In order to proceed with your request, please confirm your acceptance of this quotation in writing, mentioning the above reference, as well as the tax number and exact address to be used for billing. Not giving this information will invalidate acceptance of the quotation and subsequent delivery of the meteorological information requested.

If we do not receive confirmation of acceptance of the quotation from yourselves within 30 days we reserve the right to cancel your request.

Your faithfully

Commercial Division Coordinator

Manuela Travassos M. Caldeira

Ministry of Science, Technology and Higher Learning