14_volume_XIV_apenso_V_3043-103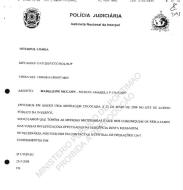 14_volume_XIV_apenso_V_3044-104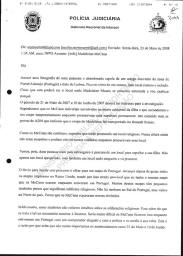 14_volume_XIV_apenso_V_3045-105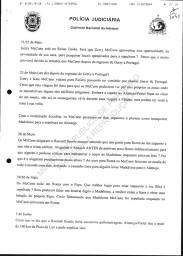 14_volume_XIV_apenso_V_3046-106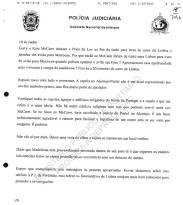 TO: Interpol Lisbon


Subject: Madeleine McCann - Yellow Alert F-131/5-2007

We are sending an attached message that was posted on the public Interpol site on 23rd May 2008.

We ask you to take the necessary measures and let us know the results of your investigations in the light of this message.

If necessary do not hesitate to contact Operation Centre 1 24/7.

With compliments

IP LYON

23-5-2008

From S********. Sent on Friday 23rd May 2008.
For INFO, Subject Madeleine McCann

Hello,

I attached the photo of a small and abandoned chapel of a former convent in the Portel/Alentejo (Portugal) to the East of Lisbon. It is on top of a hill, in a remote and isolated place. I think this could be the place where Madeleine McCann is buried and I will explain why.

The period 21st May 2007 and 10 June 2007 should be of interest to the investigation. Let us suppose that the McCanns were involved in the accidental death of their daughter and that they hid her body temporarily while they were looking for a permanent burial place. This would coincide with DNA evidence that indicates that Madeleine's body was transported in the Renault Scenic.

As the McCanns are Catholics, I suppose they would have tried to find a religious place. At this time they were not yet suspects and did not have to be so careful when they were searching for this site.

So, we have two people in a foreign country looking for a place to bury their daughter. Not just an appropriate place, but also some place where nobody would look.

The obvious thing to begin this process would be to look at a map of Portugal. I looked at copies of all the maps printed in the UK and it is therefore highly probable that I have the same map that the McCanns were using when they were in Portugal. Many of these maps have small dark symbols that signify religious buildings. There are none in the south of Portugal but there are various in the North of the country. I think that the McCanns looked at these symbols.

Unfortunately, these symbols do not refer to details about the religious buildings. In order to establish that it would perhaps be necessary to resort to Internet. It would be very difficult for the McCanns to do this in Portugal using a rented computer and with the police and media surrounding them. That is the reason why I think the events between 21st May and 10 June are very important.

21/22 May

Gerry McCann is in the UK. Could it be that Gerry McCann took advantage of this opportunity, in the privacy of his home, to search for appropriate places for the burial? I think this is very probable given the attitudes of the McCanns after Gerry's return to Portugal.


23 May (one day after Gerry's return to Portugal)

Gerry and Kate McCann travel to Fatima passing many areas of Portugal on their way. I think that this trip was made so that the McCanns could see for themselves the areas where some of the religious buildings were found. Now the Alentejo/Portel chapel is situated on a hill top, I don't know whether they managed to see it during this trip to Fatima, but they could have seen the area upon their return.

The location being decided, the McCanns spent the following days planning how to transport Madeleine for burial in the Alentejo.

28 May

The McCanns rented the Renault Scenic even though they knew they were going to Rome on the following day and would not use it. They rented the Renault BEFORE leaving for Rome deliberately so that someone could use it to transport Madeleine's body while they were away. Why did they hire it precisely at this time? Upon going to Rome the McCanns took the media of the whole world with them, leaving the way free for someone to take Madeleine to Alentejo.

29/30 May

The McCanns are in Rome with the Pope. What better place to be while their daughter was buried?. While not being able to offer a dignified funeral for Madeleine, the best thing to do would be to obtain a blessing from the Pope himself. I believe firmly that Madeleine McCann was buried whilst the McCanns were in Rome.

3 June

I think it is said that the Renault had clocked up excessive mileage. Alentejo/Portel is situated 160 km from Praia da Luz which could explain this.


10 June

Gerry and Kate McCann leave Praia da Luz at the end of the afternoon to go to Lisbon by car in order to catch a flight to Morocco. For what reason did the McCanns travel by car to Lisbon to catch the flight to Morocco when they could have flown from Faro? Did they take advantage of this opportunity to visit Madeleine's burial site? It is located at only 20 minutes by car from Lisbon.

I went through this with detail. The Alentejo/Portel chapel is not a place represented by one of the dark symbols but is very close to one of them.

I checked all the chapels, churches and religious buildings in the north of Portugal and the chapel I refer to is the most obvious. There is no other unused religious building that could be more suitable for the McCanns. If I were the McCanns, I would have chosen the Portel chapel in Alentejo. It is a suitably agreeable and remote place in order to facilitate the burial of a body without being seen by anyone. It is perfect.

Don't just take my word. Have a look around and see if you can find a better place.

Given that Maddie is probably buried inside a bag (as is suggested by the laboratory examinations carried out on the car) she could possibly be found with the use of a metal detector.

I hope that you communicate this message to the appropriate persons. I sent elements about this building to the PJ in Portimao but maybe the Lisbon officers are better placed to proceed with these investigations.