11_VOLUME_XIa_Page_2836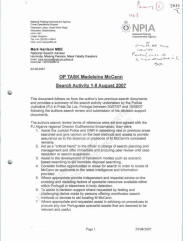 11_VOLUME_XIa_Page_2837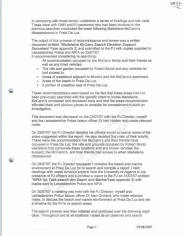 11_VOLUME_XIa_Page_2838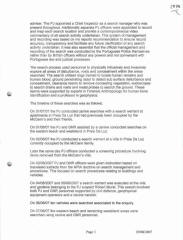 11_VOLUME_XIa_Page_2839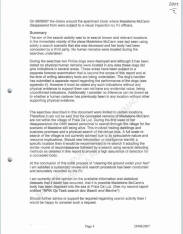 Mark Harrison MBE
National Search Adviser
Homicide, Missing Persons, Mass Fatality Disasters
OP TASK Madeleine McCann
Search Activity 1 – 8 August 2007
This document follows on from the author's two previous search documents and provides a summary of the search activity undertaken by the Policia Judiciaria (PJ) in Praia da Luz, Portugal between 20-07-07 and 10-08-07 following the authors search review and submission of his decision support documents.
The authors search review terms of reference were set and agreed with the PJ Algarve regional Director Guilhermino Encarnacao, they were;
1. Assist the Judicial Police and GNR in assessing new or previous areas searched and give opinion on the best methods and assets to provide assurance as to the absence or presence of M McCann's concealed remains.
2. Act as a "critical friend" to the officer in charge of search planning and management and offer immediate and enduring peer review until case resolution or search suspension.
3. Assist in the development of framework models such as scenario based searching to aid homicide disposal searching.
4. Consider further opportunities or areas for search in order to locate M McCann as applicable to the latest intelligence and information provided.
5. Where appropriate, provide independent and impartial advice on the enabling and disabling factors of specialist resources available either within Portugal or elsewhere in body detection.
6. To assist in decision support where requested by testing and challenging claims made by persons offering unorthodox search methods or devices to aid locating M McCann.
7. Where appropriate and requested, assist in advising on procedures to procure any non Portuguese specialist assets that are deemed to be relevant and useful.
In complying with these terms I undertook a series of briefings and site visits. These were with GNR and PJ personnel who had been involved in the previous searches conducted the week following Madeleine McCann's disappearance in Praia da Luz.
The output of this process of reconnaissance and review was a written document entitled "Madeleine McCann Search Decision Support Document" (see appendix 2) and submitted to the PJ with copies supplied to Leicestershire Police and NPIA on 23-07-07.
It recommended considering re searching:
- All accommodation occupied by the McCann family and their friends as well as any hired vehicles.
- The villa and garden occupied by Robert Murat and any vehicles he had access to.
- Areas of wasteland adjacent to Murat's and the McCann's apartment.
- Areas of the beach in Praia da Luz.
- A portion of the coastline east of Praia da Luz.
These recommendations were based on the fact that these areas had not been previously searched with the specific intent to locate Madeleine McCann's concealed and deceased body and that the areas recommended afforded likely and obvious places to consider for concealment in such an investigation.
This document was discussed on 23-07-07 with the PJ Director, myself and the Leicestershire Police liaison officer DI Neil Holden who made relevant notes.
On 25-07-07 the PJ Director decided his officers would re-search some of the areas suggested within the report. He also decided the order of their priority. These were the accommodation the McCann's and their friends have occupied in Praia da Luz, the villa and the grounds occupied by Robert Murat, wasteland that surrounds these locations and any known vehicles the suspect, the McCanns and their friends had access to when Madeleine disappeared.
On 26-07-07 the PJ Director requested I consider the beach and marine environment at Praia da Luz for re-search and compile a report. I held meetings with coastal dynamic experts from the University of the Algarve in the presence of PJ officers and submitted a report to the PJ on 31-07-07 entitles "NPIA OP TASK Search Doc Beach and Marine" (see appendix 3) with copies sent to Leicestershire Police and NPIA.
On 30-07-07 a meeting was held with the PJ Director, myself and Leicestershire Police liaison officer DI Alan Orchard, who made relevant notes, to discuss the beach and marine environment at Praia da Luz and set a timeline for the PJ to re-search areas.
The search process was then initiated and continued over the following eight days. Throughout and at all locations I acted as an observer and search adviser. The PJ appointed a Chief Inspector as a search manager who was present throughout. Additionally, separate PJ officers were appointed to record and map each search location and provide a contemporaneous video commentary of all search activity undertaken. This system of management and recording was based on my reports recommendation to ensure record accuracy, transparency and facilitate any future clarification of any search activity undertaken. It was also essential that the official management and recording of the search was conducted by the Portuguese Police themselves rather than by British officers without any powers and not conversant with Portuguese law and judicial processes.
The search process used personnel to physically, intrusively and invasively explore all areas of disturbance, voids and concealment within the areas searched. The search utilised dogs trained to locate human remains and human blood, ground penetrating radar to detect sub surface disturbance and concealment, clearance teams to remove concealing vegetation, endoscopes to search drains and voids and metal probes to search the ground. These teams were supported by experts in Forensic Anthropology for human bone identification and a professor in geophysics.
The timeline of these searches was as follows:
On 31-07-07 the PJ conducted canine searches with a search warrant at apartments in Praia da Luz that had been previously occupied by the McCanns and their friends.
On 01-08-07 the PJ and GNR assisted by a canine, conducted searches on the eastern beach and wasteland in Praia da Luz.
On 02-08-07 the PJ conducted a search warrant at a villa in Praia da Luz currently occupied by the McCann family.
Later the same day PJ officers conducted a screening procedure involving items removed from the McCann's villa.
On 03-08-07 PJ and GNR officers were given instruction based on translated extracts from NPIA doctrine on search management and procedures. This focused on search procedures relating to buildings and vehicles.
On 04-08-07 and 05-08-07 a search warrant was executed at the villa and gardens belonging to the PJ suspect Robert Murat. This search involved both PJ and GNR personnel supported by civil defence, geophysical equipment operators and a canine handler.
On 06-08-07 ten vehicles were searched associated to the enquiry.
On 07-08-07 the western beach and remaining wasteland areas were searched using canine and GNR personnel.
On 08-08-07 the drains around the apartment block where Madeleine McCann disappeared from were subject to a visual inspection by PJ officers.
Summary
The aim of the search activity was to re-search known and relevant locations in the immediate vicinity of the place Madeleine McCann was last seen using solely a search scenario that she was deceased and her body had been concealed by a third party. No human remains were located during the searches undertaken.
During the searches two Police dogs were deployed and although it has been stated that no physical remains were located in the area these dogs did give indications in several areas. These areas have been subject to a separate forensic examination that is beyond the scope of this report and at the time of writing laboratory tests are being undertaken. The dogs' handler has submitted a separate report regarding the performance of the dogs (see appendix 4). However, it must be stated any such indications without any physical evidence to support them can not have any evidential value, being unconfirmed indications. Additionally I consider no inference can be drawn as to whether a human cadaver has previously been in any location without other supporting physical evidence.
The searches described in this document were limited to certain locations. Therefore, it can not be said that the concealed remains of Madeleine McCann are not within the village of Praia da Luz. During the first week of her disappearance the GNR tasked personnel to search through the village for the scenario of Madeleine still being alive. This involved visiting dwellings and business premises and a physical search of the refuse bins. A full scale re-search of the village is not currently advised due to its speculative nature and resource implications. Should new information or intelligence identify a specific location then it would be recommended to re-search it adopting the similar model of reconnaissance followed by a search using several detecting methods as detailed in this report to provide a high assurance of detection for a concealed body.
At the conclusion of this initial process of "clearing the ground under your feet" I am satisfied a systematic review and search procedure has been conducted and accurately recorded by the PJ.
I am currently of the opinion on the available information and statistical datasets that if death has occurred, that it is possible that Madeleine McCann's body has been disposed into the sea at Praia da Luz. (See my second report entitled "NPIA OP TASK Search Doc Beach and Marine").
Should further advice or support be required regarding search activity then I would be happy to consider such a request.
29-08-2007