457 List of individuals who gave witness statements with interpreter names indicated
with thanks to Ines
02 Processos Vol IIPage 457
518 - Details of missing child
interpreters
02 Processos Vol II Page 518

From the Lagos Court


Report via Fax to PJ Portimao of the interpreters indicated above with address and phone number.

Summon them by the quickest means for their statement of compromise.

Ask the PJ to provide via Fax the names, addresses, phone numbers of the interpreters mentioned on the previous page.

Afterwards contact them for their statement of compromise in this Court within a maximum delay of 46 hours, according to article 91, number 2 of the CPP:

The present case files begin with the news of the disappearance of Madeleine McCann, born on 12-05-2003, female sex, white daughter of Gerald Patrick McCann and Kate Marie Healy.

The disappearance occurred on 03-05-2007 from a ground floor apartment of the Ocean Club in Praia da Luz between 21.30 and 22.00.

As it is relevant to discovering the whereabouts of the child, I authorise and request the GNI to divulge the identification of the girl in order to establish her whereabouts, this should be done by means of a yellow alert.

Please copy this communication to the PJ.

Organise the translation of these files.

Make a copy of the present files, with a copy of everything that has been processed, as quickly as possible and deliver it to the hand of the Public Prosecutor.

7/5/2007 (17 hours)

Signed

Sandra Marques
816 Information regarding interpreters
817 List of deponents and interpreters
03
Processos Vol III Page 816 to 817
To:

Portimao DIC


Processo 201/07 0 GALGS

Date: 07-05-2007


Subject: Information about Interpreters



This letter is to inform you that, within the framework of the investigation mentioned above, Sra Alice Dias Homem de Gouvela Avakoff from Lagos will be named as interpreter/translator.

I also inform you that Sra Silvia Cristina Morgado Vicente from Lagoa is also an habitual interpreter for our services, but given the urgency of this case we have not yet been able to contact her to find out whether she is available.

We request you to inform us the correct names and addresses (and telephone numbers) of the various interpreters who have already intervened in the case, a list of names is attached so that our services can obtain a statement of compromise from them.

With compliments,

The Deputy Prosecutor


Sandra Marques
965 Information regarding interpreter
966 Request for payment of interpreter
04 Processo 04 Pages 964 966
1923 Interpreter Invoice
1925 Interpreter information
1926 to 1927 Interpreter invoice
1935 Interpretes invoice
07 Processo 07 Pages 1923 1825 to 1927 1935
2535 Fax dated 6 September stating that KMH had nominated an interpreter for her questioning on that date.
Processos Vol X Page 2535

Policia Judiciaria


Fax

Classification: VERY URGENT


Date: 06-09-2007


To: The Public Prosecutor, Lagos Circuit

Dr Magalhaes Menezes

From: Portimaao DIC
Dr Gon?lo Amaral, Coordinator of the Criminal Investigation

201-070 GALGS

Subject: Naming of Interpreter

I hereby communicate to you that there is a need to question Kate McCann, British citizen, within the framework of the investigation mentioned above. Therefore, as she is a foreign citizen, who does not speak Portuguese, the legal necessity for naming an interpreter exits.

She herself has proposed A***** D****** S****** R****** with offices in Portimao.

Upon this basis, I propose that you proceed to name the latter.


With best compliments,

The coordinator of the Criminal Investigation


Goncalo Amaral
2536 Confirmation of fax
2537 to 2538 Communication Dispatches nominating the interpreter
10 Processo 10 Pages 2536 to 2538,
2552 Information about interpreter
3008 - Notification of interpreter
Processos Vol X Page 2552
also
Processos Vol XI Page 3008
Policia Judiciaria
NUIPC 201/070.GA.LGS
NOTIFICATION
On 6th September 2007 at the Portimao DIC installations notification is made to Armanda Duarte Salbany Russel in her capacity as interpreter, for a period of 48 hours, to appear before the Portimao Court Public Ministry for the purposes outlined in articles 92 nº 2 and 91 nº 1 of the CPP.
She signs with me, PJ Inspector Paulo Ferreira,
Signed.
2611 Original of page 2538 re: interpreter appointment
Processos Vol X Page 2611
Portimao Public Services Ministry

201.070 GALGS

Conclusion 06-09-2007



As requested I have named the interpreter, A****** D******S****R****, who is known in court.


She will be notified that she must appear before the Public Ministry services within 48 hours for the act of compromise referred to in article 91 n?3 of the CPP.

Signed.

The Public Prosecutor

Dr Magalhaes Menezes
2612 Communication Dispatch
2613 to 2614 Interpreter documentation
2674 to 2677 Service Information 13 & 19 September re: interpreter and payment details
10 Processo 10 Pages , 2612 to 2614,2674 to 2677
3007 Interpreter Information
11 Processo 11 Pages 3007
11_VOLUME_XIa_Page_3007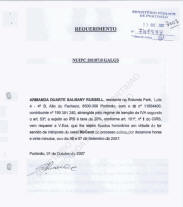 Processos Vol XI
Page 3007
Received by the Portimao Public Ministry.
REQUIREMENT
NUIPC 201/07.0 GALGS
Armanda Durate Salbany Russel, resident of Rotunda Park, Portimao, with social security number ***, subject to IRS tax of 20% according to article 1 of the CIRS, requires her fees to be established for having served as interpreter for the McCann couple in the abovementioned case, for a period of nineteen hours and twenty minutes, on the 6th and 7th of September 2007.
Portimao, 1st October 2007.
Signed.
3014 Certification re interpreter
11 Processo 11 Pages 3014
3136 to 3137 Request to pay interpreter
3927 Service information re: interpreter
12 Processo 12 Pages 3136 to 3137
13 Processo 13 Pages 3927
3828 to 3835 Public Ministry of Portimao documents re: interpreter
14 Processo 14 Pages 3828 to 3835
14_VOLUME_XIVa_Page_3828
14_VOLUME_XIVa_Page_3829
14_VOLUME_XIVa_Page_3830
14_VOLUME_XIVa_Page_3831
14_VOLUME_XIVa_Page_3832
14_VOLUME_XIVa_Page_3834
14_VOLUME_XIVa_Page_3833
14_VOLUME_XIVa_Page_3835
4271
-

Robert James Queriol Eveleigh Murat, also carried out functions of interpreter
16 Processos Vol XVI Page 4271

Francisco Pagarete
Lawyer


To: The Prosecutor of the Portimao Court


NUIPC 201.07.0GALGS
Public Ministry Services


Robert James Queriol Eveleigh Murat, arguido in the case mentioned above, who in the same process also carried out functions of interpreter, requires that Your Excellence informs him when it was that he made a compromise of honour in order to carry out these functions.

Signed
The Lawyer
Francisco Pagarete
4412 to 4413 Interpreter invoice
16 Processo 16 Pages 4412 to 4413
4489 to 4493 Interpreter information and invoice
17 Processo 17 Pages 4489 to 4493
TRANSLATION BY INES
17_VOLUME_XVIIa_Page_4489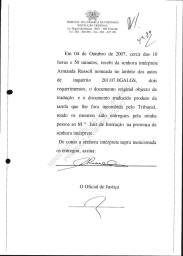 17_VOLUME_XVIIa_Page_4490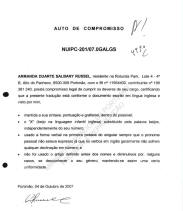 17_VOLUME_XVIIa_Page_4491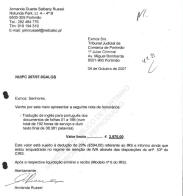 17_VOLUME_XVIIa_Page_4492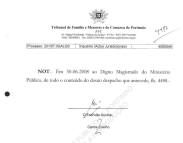 17_VOLUME_XVIIa_Page_4493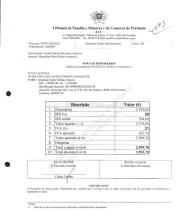 Processo Vol XVII Page 4489
Portimao Criminal Instruction Court
On 4th October 2007, at about 10.50 I received from the interpreter Armanda Russell, named in the 201/07.OGALGS case files, the following two requirements, the original document which was the object of the translation and the translated document produced according to the price that was agreed by the Court, I personally having delivered these documents to the Instruction Judge in the presence of the interpreter.
This is the manner in which the interpreter delivered them,
signed
The Court Official
-------------------
Processos Vol XVII Page 4491
Amanda Duarte Salbany Russell
Rotunda Park Lt 4 – 4ªB
8500-309 Portimao
Tel:
Email:
Portimao Judicial Court
1 Criminal Judge
Av. Miguel Bombarda
8501-960 Portimao
4th October 2007
NUIPC 207/07.OGALGS
Dear Sirs,
I present my invoice:
- Translation from English into Portuguese of the documents with page numbers 01 to 188 (for a total of 192 working hours and final text containing 38.381 words).
Brute value............2.970.00 Euros
This value is subject to a deduction of 20% (594,00 Euros) corresponding to IRS and I inform you that this is contained in the VAT regime according to article 53 of the CIRS.
After payment I will issue the receipt (IRS Model nº 6).
Yours sincerely,
Amanda Russell
Processos Vol XVII Page 4493
The receipt is in here dated 30-6-2008
44 to 45 Interpreter invoices
01 Carta Rogatoria 01 Pages 44 to 45
also Processo-07 pages 1887 to 1888