apenso5_vol_4_p823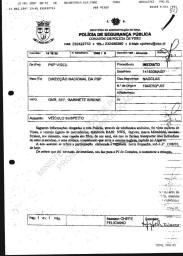 apenso5_vol_4_p824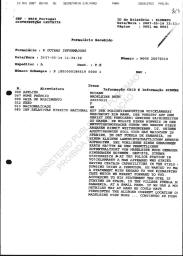 apenso5_vol_4_p825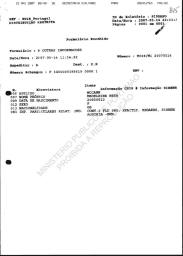 apenso5_vol_4_p826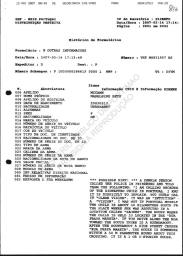 apenso5_vol_4_p827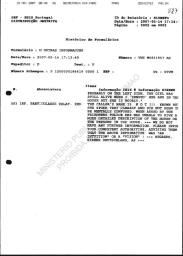 apenso5_vol_4_p828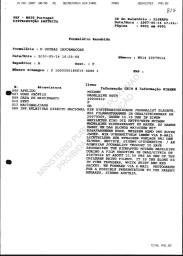 apenso5_vol_4_p829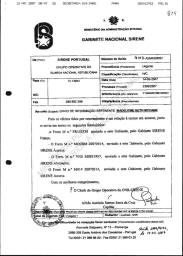 apenso5_vol_4_p830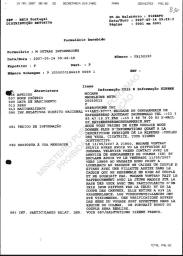 apenso5_vol_4_p831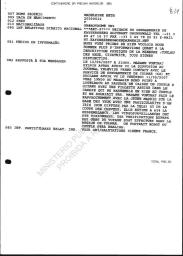 Apensos V, Vol IV Page 823
Public Security Police (PSP)
Viseu
From: PSP Viseu
Date 14 1930 May 2007
To: PSP National HQ
Subject: Suspicious Vehicle
Following information told to the police in an anonymous phone call, in the area of Viseu, a light vehicle was seen, number plate RAO2 NWS, English, Mitsubishi Strakar, grey with a blue cloth top in which two males were travelling with a girl, suspected to be the girl who was abducted from the Algarve.
This is referred to in the statement made by this police force, nº 1398/07 today.
A fax was immediately sent to the Coimbra PJ to inform them of the situation.
Apensos V, Volume IV Page 824
Form Received
Form: Other Information
Date/Time: 2007-05-14 11.34
Items
Surname: McCann
Name: Madeleine
Date of Birth: 2003-05-12
Sex: F
Nationality: GB
SIRENE Austria
At the police station in Vocklamarkt a man appeared who stated having certain capabilities in the field of dowsing using a pendulum. He wanted to make a statement with regard to the kidnapping case which we hereby forward to you. According to his statement the girl is staying in Spain in the village Puebla de Sanabria, at a small farm. If we had a more detailed map at hand he could have pinpointed the alleges current location of Madeleine even more......continued in form
(Not continued)
Apensos V, Volume IV Pages 826-827
(In Engish)
Form: Other Information
Date/Time: 2007-05-14 17:13
Surname: McCann
Name: Madeleine
Date of Birth: 2003-05-12
Nationality: GB
Possible hint! A female person called the police in Friedberg and told them the following: "I am calling because of the kidnapped child in Portugal. I know it is difficult to explain. You could call it "clear vision". It was an "intuition" a "vision". I was not in Portugal myself. The child is about 40 kilometres south from the place where she was abducted in a location called Sagres. The house where the child is held is located in the "Rua Praya Mareta". If you drive along the road toward the south there is a roundabout. After the roundabout a side street crosses Rua Praya Mareta. The house is somewhere within a 50 m parameter round about this crossing. It is a 1 or 2 storied house probably on the left side. The girl was still alive when I "sensed" her and in the house but she is poorly.
The caller's name is not (!) known but she spoke very clearly and did not seem to be mentally confused. When asked by the Friedberg police she was unable to give a more detailed description of the house. We do not have any further information. Please inform your competent authorities, advising them that the above information was "an intuition" or a "vision"!
Regards, SIRENE Germany
In German and English
Apensos V, Volume IV Pages 828
Form: Other Information
Date/Time: 2007-05-14 16.23
Surname: McCann
Name: Madeleine
Date of Birth: 2003-05-12
Nationality: GB
An Austrian journalist thought to have recognised the kidnapped McCann Madeleine during a film shooting in Graz/Styria on 2007 05 06 at about 15.30 as one of the children being filmed. It is the blond girl in pink trousers, white shirt and red jacket. We forward via e-mail photographs for a possible presentation to the parent.
Regards SIRENE Austria
Apensos V, Vol IV Page 830

(repeated on 831)


(In French)

Received Form

Form: Other Information

Date/Time: 2007-05-14 09.46

Surname: McCann
Name: Madeleine
Date of Birth: 2003-05-12
Sex: F
Nationality: GB

Request for Information: We ask you to give us more information regarding the physical description of the child: eye colour, scar, all distinctive marks.

Reply to your message: On 13-05-2007 Mme Sylvie Vonstrat after having seen the news on television contacted the Colmar Gendarmerie and claimed to have seen on Friday 11-05-2007 at bout 19.00 in the Rond Point shop in Logelbach at the check out, a gypsy couple with a small girl sitting in the trolley who did not resemble the couple at all and who did not smile. Mme Vontrat made the link with young Maddie on the basis of the eyes having a peculiarity in the iris (not shown on television) and because of the hair style. She thinks there is a 65% resemblance. Security footage has been seen. Checks have been made with travellers in Colmar. A photo fit of the couple will be made.
Regards, SIRENE France.